The upcoming documentary "Michael Des Barres: Who Do You Want Me to Be?" began exactly 30 years ago. That's when a 14-year-old J. Elvis Weinstein watched Live Aid - the mega-concert created to raise funds for to help the Ethiopian famine. The Duran Duran off-shoot band Power Station helped kicked off the festivities, but without lead singer Robert Palmer. Taking his place, in front of an estimated one billion people, was Michael Des Barres.
"I watched a lot of MTV, but I was like, 'Who was is guy? Wasn't he on WKRP?'" said Weinstein, who directed the film. "So he became a fascinating character to me because I hadn't known about him and I dedicated myself to learning more."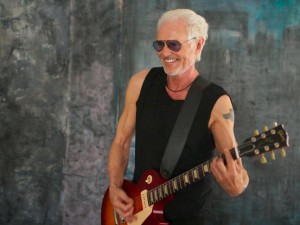 And there was plenty to learn. "Who Do You Want Me To Be?" showcases the unlikely, chaotic, strange and beautiful trip that has seen Des Barres go from a lower-middle class child in a one-parent home, to child actor to iconic rock star to actor and back again. Despite his rock-star cred, many know the 67-year-old only from one of his many acting roles, including on MacGyver, 21 Jump Street, WKRP in Cincinnati and countless other TV shows and movies. As Des Barres himself points out, there can't be many other men in history who have played a concert in front of a billion people, and also acted with Alf.
And while Weinstein allows Des Barres to tell the story - and what a story it is - the documentary is as much a redemption tale as biography. Spending his early years as an entertainer often under contract - including a famed deal with Led Zepplin - Des Barres became more well known for his rock star party lifestyle than for his music, as he consumed as much cocaine as his wiry body would allow. In fact, Des Barres' biggest hit as a song writer - "Obsession" - was written about his obsession with drugs.
Leaving his first wife for famed rock groupie Pamela Des Barres, the chaos continued. In 1981, just as it seemed drugs were preparing to win the battle against the boy from Sussex, Des Barres caught a glimpse of himself in a mirror. With vanity that far exceeded his addiction, he stopped drugs, cold turkey. Weinstein said it was that decision that not only kept his career alive, but kept him in the good graces of many of his old friends.
"A big part of the reason he's pulled it off was he got sober before everyone else," said Weinstein, 44. "A lot of people are still very fond of him."
Starting his career as a stand-up comedian and with a resume that includes being one of the originals of the Mystery Science Theater 3000 Theater cast, as well as being a writer and producer for the cult hit "Freaks & Geeks," at first blush Weinstein might appear an odd choice to chronicle the life of a notorious rock star. But Weinstein - who recovered from kidney cancer in 2014 - said there had long been a part of him that felt connected with Des Barres.
"We both spent our life in show business. I started doing stand up at 15," said Weinstein, who made his directorial debut with the film. "Like me, he's at his happiest when he's creating something. I mean, the guy did his best album ("Key to the Universe") at 65."
What helped make Des Barres even more fascinating to Weinstein was his kindness and interest in other people.
"Narcissistic brings out a bad connotation, but he is somewhat self-absorbed. It's part of his personality," said Weinstein, born and raised in Minneapolis, Minn. "But he is also absolutely generous wih the attention he gives other people, no matter their station in life.
"He'll tell you this amazing story & then say, and what about you, tell me about you? He's a junkie for moments. Him & another individual, an audience, a TV camera. He's always searching for the moment. He will always make someone feel like a star," said Weinstein.
"Michael Des Barres: Who Do You Want Me to Be?" is still in search of a distributor, but for Weinstein, the film has begun a new chapter in his life a director. Currently working on his second film, about stand-up comedy in Asia, Weinstein says he is only happy when he's making something.
"I've been a head writer and I've always enjoyed being in charge," laughed Weinstein. "There's a lot of control freak in me. It's not that I don't like collaboration it's just that I think I'm right, all the time."
In the end, "Michael Des Barres: Who Do You Want Me to Be?" is a triumphant directorial debut for Weinstein. He wisely gets out of the way and allows Des Barres and a cadre of his hyper-famous friends discuss an iconic time and an iconic entertainer. The end result is not just an opportunity to look back at a time of sex, drugs and rock & roll, but a chance to see the true redemption story that is Michael des Barres.
Michael Des Barres: Who Do You Want Me to Be?
Web Site:  www.mdbmovie.com
Screenings
-WKW
It was 21 year ago today that Freddie Mercury left us. A more talented and unique artist has never lived.

-WKW
Don Johnson sent to find it.

-WKW
Not safe for workplaces that are offended by dicks in a drink. Courtesy of The Fellows.
HT Steve Beste
-WKW
This is awesome on more levels than actually exist. Let me present Ukranian sensations, Kazaky:
HT Michael
-WKW
Over at Alan Colmes Liberaland, I was reading about protests near the Islamic Center two blocks away from Ground Zero, when this struck me:
Opponents chanted "No mosque, no way!" and carried signs reading, "9-11-01: Never Forget," as Bruce Springsteen's "Born in the USA" blared over loudspeakers.
I'm well aware that the more patriotic someone is, the more they're able to overlook the fact that Springsteen's hit is not in fact a patriotic homage to America, but instead a song dedicated to the lower middle-class being used as fodder for war and their experiences upon returning.
But it's really, really silly. Here are the lyrics, and you tell me if Springsteen's aim was to tell Muslims they couldn't build a mosque:
Bruce Springsteen - Born in the U.S.A.
Born down in a dead man's town
The first kick I took was when I hit the ground
You end up like a dog that's been beat too much
'Til you spend half your life just covering up
[chorus:]
Born in the U.S.A.
Born in the U.S.A.
Born in the U.S.A.
Born in the U.S.A.
I got in a little hometown jam
And so they put a rifle in my hands
Sent me off to Vietnam
To go and kill the yellow man
[chorus]
Come back home to the refinery
Hiring man says "Son if it was up to me"
I go down to see the V.A. man
He said "Son don't you understand"
[chorus]
I had a buddy at Khe Sahn
Fighting off the Viet Cong
They're still there, he's all gone
He had a little girl in Saigon
I got a picture of him in her arms
Down in the shadow of the penitentiary
Out by the gas fires of the refinery
I'm ten years down the road
Nowhere to run, ain't got nowhere to go
I'm a long gone Daddy in the U.S.A.
Born in the U.S.A.
I'm a cool rocking Daddy in the U.S.A.
Born in the U.S.A.
Seriously, people, I'm sure some country singer has penned a song that glorifies all things America. But Springsteen didn't. And you just look like idiots when you try and pretend otherwise.
-WKW
I always try and promote young new artists here at the Chronicles. Today, we look at singer Mark Gormley and a girl who looks REALLY uncomfortable:
Now go and behold the awesome power and glory of Mark Gormley!
-WKW
HT Michael

The Debate is over. The chicken came first.

News
Utah's List: So someone in the Utah government releases a list of names of alleged illegal immigrants and sends it all around. Can someone explain to me again how Obama is the Nazi?
NSA Whistleblower: Thomas Drake was concerned about your privacy. The NSA wasn't. Now he's facing 35 years in jail.
Gay Marriage Legalized in Argentina: It passes Senate and Argentine President will sign. This is what standing up for the rights of others looks like.
BPs Oil Disaster: As the world learns BP lobbied for a terrorist's release, it waits for a "crucial test" of a new cap on its oil geyser. Don't be hopeful.
Sports
British Open: Tiger Woods and John Daly are first-round stars. No one harmed.
ESPYs: Wait, they still hold the ESPYs? Why?
Bible Verse of the Day
He that is wounded in the stones, or hath his privy member cut off, shall not enter into the congregation of the LORD. (Deuteronomy 23:1)
Blogs
Huffington Post: If it's a pseudoscientific story that involves Big Pharma, Huffington will run it, and readers will agree with it.
The Daily Beast: Sarah Palin will run in 2012. Looks that way to me, too.
Genghis: I Am Israel, Hear Me Kvetch!
Rising Hegemon: Obviously, bloggers have no ethics whatsoever.
Odd

I swear to Allah this monkey would behead you if it could.
Taliban Training Jihadist Monkeys: And not just jihadist monkeys - BLACK PANTHER Jihadist Monkeys!
-WKW
Are you a patriotic militia member that's fighting Barack Obama's illegal communist regime that's forcing the U.S. into a tyrannical New World Order that will enslave us all? Are you in a band?
If you answered "yes" to those questions, then we want you to "Get Rocked!" in the Third Annual "Militia Members Get Rocked Music contest!" Why join? With a grand prize of $50,000 and a record deal from Fox News Music, you and your band will be on your way to greatness!
But there's more! The "Militia Members Get Rocked" music contest is looking for all patriotic militia members that sing, write songs or even just enjoy music. This is the contest for everyone who believes only a full overthrow of the U.S. government will get things back to the way our Founders intended! And prizes will range from recording gear and equipment to hundreds of cash prizes!

Why are we doing it? Because we know patriotic, god-fearing Militia Members love their music and have the chance to break through. Edgy lyrics and chaotic beats are the wave of the future, and we want to catch that wave with you. Mostly though, we firmly believe that armed militias in the U.S. don't get the attention they deserve. We know there's a lot of you out there and we want you to Get Rocked!
Entering is easy. Just send a letter to contest headquarters, including a tape of your band, why you love music and telling us what you've done personally to overthrow the nation. The crazier the better! Just make sure to sign the letter. Send it to:
Militia Members Get Rocked! Music contest
J. Edgar Hoover Building
935 Pennsylvania Avenue,
NW Washington, D.C. 20535-0001
Patriots, this is your chance. We know you aren't all about trying to cause racial wars and violent overthrow of the government with your well-armed militia. You are also about the music. So enter the contest and Get Rocked!
-WKW
Thanks to Angelos for official "Militia Members Get Rocked Poster"
NEVERLAND - Several children that had been molested by recently deceased pop star Michael Jackson have come forward to express their thoughts on his death. While none of Jackson's victims would use their real names out of fear of retaliation from Jackson's fans, most marveled at the "King of Pop's" legendary musical careers.
"He was such an amazing talent," said Bob Jones, now 23 and living in a box underneath the Santa Monica Freeway. "Sure, I still have terrible nightmares, but he really revolutionized pop music."
Another of Jackson's former victims came forward to state that Jackson's legacy should be all about the music.
"I've been drunk for the last 14 years, but from what I've heard, I haven't missed much from him," said Joe Smith, now 24 and living in a San Jose halfway house. "But seriously, his early work was magnificent."
At least one other of Jackson's victims praised his dancing ability.
"I mean, the guy created the Moonwalk," said Ted Lyons, now 26 and residing in San Quentin Prison for a variety of crimes. "It's pretty much impossible for me to have a relationship due to the horrifying trust issues I've had to deal with since I knew Michael, but if I ever had a child, I'd teach him some of MJ's dance moves."
In other news, more of Jackson's surviving victims - several long ago committed suicide and were unavailable for comment - are getting together to write a tribute book to Jackson entitled "Michael Jackson: He Molested Us and Ruined Our Lives, But Thriller was Freakin' Awesome."
-WKW
Decades later, I can still listen to this ELO classic on a continuous loop. Mr. Blue Sky is living here today.
-WKW