Look what showed up in my in-box:
For Immediate Release – October 28, 2015 –

"Denny Hastert Grips My Balls"
Filmmaker/Authors Predicted Hastert Scandal Six Years Ago

West Hollywood, California  –  On the day that former House Speaker Dennis Hastert pleaded guilty to paying hush money for "misconduct" as a high school wrestling coach, the authors of a satirical novel that predicted similar behavior in a chapter titled "Denny Hastert Grips My Balls," announced that their publisher has added a second printing of their critically-acclaimed book.  The 2009 Farrar, Straus, Giroux release, "I Am Martin Eisenstadt: One Man's (wildly inappropriate) Adventures with the Last Republicans," by Dan Mirvish and Eitan Gorlin, also predicted the fracturization of the Republican Party, and scandals involving David Petraeus, Elliot Spitzer, Anthony Weiner, Ehud Olmert, Pamela Geller, Sarah Palin and Paris Hilton.

"My clients, the Eisenstadt duo, have nailed it again.  They can now claim to be the first political pundits to predict Denny Hastert's fall from grace stemming from his wrestling past," said Mirvish and Gorlin's publicist Eli Perle, of Provocation Entertainment. "If you want to understand the history, present and future of the Republican party, this is the book for you."  The Hastert references, entirely fictional at the time, included a private sauna in his Capitol Hill office where he held private meetings and gave inappropriate massages.

"Of course, whatever Hastert's real behavior might have been is regrettable and reprehensible, and we wish closure and justice for any of his victims," said Mirvish. "Whether the FBI had read the book and was inspired to investigate, we can't know for sure," added Gorlin   "We're very excited that FSG is giving the novel its second printing. We couldn't have asked for a better partner," said Mirvish.

To quote one passage from the Hastert chapter in the book: "Next thing I knew I was in a tabletop stance with all of Denny's body weight applied against my chest. 'Ha, ha!' barreled Denny. 'I still got it. Join me for a sauna?' 'As soon as you let go of my balls.' We laughed again. The ice had been broken. I was relieved. His massive, moisturizer-soft hand was still gripping my testicles."

"I Am Martin Eisenstadt" (ISBN: 0865479143) was named the #3 Book of Year by the Washington Monthly Magazine (2009), and Eisenstadt himself was Time Magazine's #8 Fleeting Celebrity of 2008. The book itself was part of a larger transmedia project that included TV, film and webseries elements, which saw Mirvish and Gorlin screen at the HBO Comedy Arts Festival and the Montreal Just for Laughs Festival. Other critical appraisal for the novel:

"Martin Eisenstadt's new memoir…is essential reading for all political junkies." – Ken Silverstein, Harper's

"Consistently funny…Eisenstadt's creators are shrewd observers of Washington, and they delight in sending up its countless absurdities, I intend it as real praise when I say that 'I Am Martin Eisenstadt' is the best fake memoir of the campaign season." – Joshua Green, Atlantic Monthly

"Washington has no shortage of pundits who pretend to know what they're talking about. But there's a real dearth of pretend pundits — and even fewer who will talk about why they're pretending in the first place." – Rick Klein, ABC News

Mirvish and Gorlin are both award-winning filmmakers. Co-founder of the Slamdance Film Festival, Dan Mirvish is currently in pre-production on the film "Bernard and Huey," with a screenplay by Oscar/Pulitzer winner Jules Feiffer.  Eitan Gorlin continues to write scripts for film and television and is in pre-production on his latest independent feature, "Burbank Caviar."

For more information or interview requests for Mirvish or Gorlin, please contact Eli Perle at Provocation Entertainment ateli.perle@provocationent.com or 323-863-3297.  For inquiries regarding Farrar Straus Giroux, please contact Sarita Varma at 212-206-5327 or sarita.varma@fsgbooks.com.
When I first met Dan Mirvish, he was the behind-the-scenes half of hoax political operative Martin Eisenstadt (who was played by actor Eitan Gorlin). And while my mind was kept busy trying to keep journalists like David Shuster from being tricked by Eisenstadt, Mirvish's mind was busy with thinking about the film "Between Us." Unfortunately for Mirvish – and many other small filmmakers – the financial crisis began and money for independent films was scarce. Luckily, Mirvish had a built-in bridge in Eisenstadt.
While working to adapt Joe Hortua's award-winning play, the character of Eisenstadt went viral, with news organizations reporting on his exploits in Iraq (where he "appeared on a talk show" to promote casinos in Baghdad, or his gossip about Kristen Wiig making out with Joe the Plumber at an SNL after party. Mirvish & Gorlin teamed up later to write a book about Eisenstadt's exploits and unique political views and took some meetings for a possible TV show.
"When Eisenstadt turned into a book offer, I was presented with the option: Do I keep not getting paidto not direct a movie, or get paid to write a book. My wife wisely advised that I write the book," said Mirvish. "When Eisenstadt more or less ran its course two years later, I recalibrated "Between Us" as a microbudget and went ahead and made it."
"Between Us," despite being written for the stage in 2002, was prescient in its views regarding student loan debt and wealth inequality. The story centers on two couples, portrayed by Taye Diggs & Julia Stiles and Melissa George & David Harbour who have all been friends since college.
While each couple faces pressures with marriage and family, the movie becomes a tale of two men and how one's decision to "sell out" has led to a much more comfortable life. Still, the fact that one couple has means while the other struggles does not translate into happiness, leading to sometimes shocking dialogue such as this exchange between George and Harbour during a fight:
"One day, I'm going to murder you," he says
"I look forward to it," she says.
While all the actors give strong performances, it's Harbour and George who steal the show and, with Mirvish's direction, give what could be a simple four-person ensemble a depth and passion that will keep a viewer riveted.
For Mirvish, the film is the latest effort in a mercurial career. Having started the popular independent film festival "Slamdance," and once worked as a speechwriter for Sen. Tom Harkin, Mirvish has earned a reputation of being a true Independent filmmaker – a reputation not hurt by how he scored such a well-known cast for "Between Us" on a minuscule budget.
More than anything, for Mirvish, "Between Us" comes from a place he can recognize.
"It also resonated with me on a more personal level with where I was in my life – dealing with young children, marriage, financial issues, and artistic authenticity," said Mirvish. "I now have three kids and the issues the characters raise in the film are definitely ones that I can relate to, or have friends who have dealt with them. Thankfully, my marriage is much better than the ones depicted in the film, and my kids are great, too."
For information on how and where to see "Between Us," click here.
–WKW
It seems Mel Gibson has hired a new PR team to change the downward direction of his career.
From HollyScoop:
(Gibson's) camp has stayed pretty quiet about the whole ordeal and we just found out he's hired a crisis management team to help him deal with this PR nightmare.

"We understand that Mr. Gibson is going through a tumultuous personal time right now, but we also realize his enormous talent and potential as an artist and advocate for public and philanthropic causes," said Martin Eisenstadt, CEO and Founder of the EisenstadtGroup, a Washington DC based crisis management consulting firm.

"Regrettably much of Hollywood, including Mr. Gibson's former agency, has turned its back on him," said Eisenstadt. "But Mel still embodies the hopes and dreams of millions of Americans, and especially in this campaign season, we feel that he can give voice to the unheard mainstream."
We always knew our long-time frenemy Eisenstadt would land on his feet.
–WKW
ITALY – In a land known for sordid romances, the latest romantic drama has people around the globe transfixed, as two great mythical characters have been linked together by noted blogger William K. Wolfrum.
"I have learned from my sources that Larry Bergman – a creation of Overstock.com CEO Patrick Byrne – and infamous Hoax pundit Martin Eisenstadt have been seen canoodling in a New York bar," said Wolfrum. "This would mark the first time in known history that two invented personages have had an illicit relationship."
Bergman, who was created by Byrne's underling Judd Bagley, has thus far refused to, or been physically unable to comment. Eisenstadt has thus far been in hiding, reportedly on a "book tour," and also has yet to comment.
While, this would not be the first time two fictitious people had a sordid affair, it is certainly the most prominent, as it involves two nefarious fictitious subjects.
Bergman was created solely so Byrne and Bagley could spy on supposed "enemies" of Overstock.com. The Bergman character has used Facebook to pry into the private lives of people like Sam Antar, Felix Salmon, Barry Ritholtz and others.
For Eisenstadt's part, the fictitious pundit was created to showcase the ineptitude of real-life American pundits. This is the first reported case of a "spy-on-pundit" relationship in Internet history.
While it is physically impossible for two fictitious personages to have physical relations, Wolfrum was adamant that the two had engaged in "nasty" activities.
"From my research, I have learned that the fake Bergman and the fake Eisenstadt have been doing all sorts of horrifying things, including Cleveland Steamers and Dirty Sanchez's,"said Wolfrum, admitting he wasn't really sure what either of those activities were. "They have also engaged in 'Portuguese Bobsledding,' 'Tater-totting,' and 'Fork Fighting,' with most of the activities being videotaped.
"As they are both fictitious, anything I attribute to them must be a part of their character," added Wolfrum. "So these guys are just sick."
As for the future of the relationship, Wolfrum demurred.
"Well, I know Eisenstadt and his creators should have a profitable future," said Wolfrum. "As for Bergman, his creators – Byrne, Bagley and the entire Overstock.com board (which may also be fictitious) – will assuredly be heard from again, perhaps in some type of court where they can explain their complete lack of regard for privacy laws.
"I can guarantee you haven't seen the last of the Tater-totting from Byrne, Bagley or Bergman," added Wolfrum. "And the simple fact is this – neither really exists, so any accusation I make against them must be true."
As a disclaimer, Wolfrum added that he has never been involved in the stock market and has no interest in OSTK or any other stock. He said that "unlike journalists like Matt Taibbi," he just wanted to see the full story of Byrne and Bagley come to light, rather than "cherry-pick" certain aspects of the story in order to burnish his reputation.
–WKW
When I began looking into one "M. Thomas Eisenstadt" last May, part of me was irritated about how the hoax was screwing with public discourse. But as time went on, that feeling changed. And that's because Eisenstadt changed, and not just the first name.
You see, Eisenstadt creators Dan Mirvish and Eitan Gorlin started the Martin Eisenstadt hoax as a way to try to create a character that would appeal to sit-com producers. As time, and the 2008 Presidential election moved forward, however, the pair began to take more pride and interest in mocking political pundits around the nation. In a classic quote, Mirvish gave his opinion of these oft-worthless talking heads: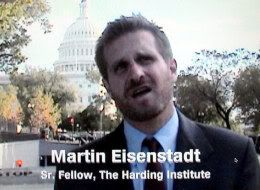 "But the other thing is that the 24 hour news cycle goes so fast and they really – they don't always check and then the pundits they do have on, they are identified as "Republican strategist" or "Democratic strategist" and their only strategy seems to be picking out the red M&Ms at the green room on HARDBALL. Are these people any more qualified than the fake pundit we developed?"
By the time "Eisenstadt" hoaxed MSNBC and many others, my opinion was that any hoax they perpetrated was much more the fault of the media that slurped them up. After all, several months before, I had outed him as a hoax, so the third entry for a Google search on the fake pundit screamed out that he was a hoax.
As much as that, a quick scan of Eisenstadt's "work" showed very clearly that the whole thing was satire. They were as subtle as a punch in the face. But still, their stories got passed along by the media. Hell, even after they took credit as the source of the "Sarah Palin doesn't know if Africa is a country or continent" report, and the New York Times outed the pair to millions, they still hoaxed people.
The best, by far, was Time Magazine. In January, Time ran a piece proclaiming that Eisenstadt was a hoax, but one "2008′s Top Fleeting Celebrities." Then, in May, Time ran a story about the "Twitterati" at the White House Correspondents' Dinner – including tweets from "McCain Advisor Martin Eisenstadt."
I got to meet Dan and Eitan after the whole story broke last December. I found them to be intelligent, thoughtful, and outrageously funny guys. So, knowing that they had a book coming out, I helped them out with some PR and satirical stories on them. Do I feel I crossed a line and made myself part of their story, thus destroying my journalism work on the pair? Absolutely not. In May 2008, I declared Eisenstadt as a hoax, and spent the next several months trying to warn bloggers and the media. So 18 months later, I feel confident I did my job. If you didn't know that Eisenstadt was a hoax, it wasn't a result of my lack of trying.
Today, their book – "I Am Martin Eisenstadt: One Man's (Wildly Inappropriate) Adventures with the Last Republicans" – hits the book stores. I want to congratulate Dan and Eitan on their achievement. And thus far, the reviews have been fantastic:
"Essential reading for all political junkies." – Ken Silverstein, Harpers

"Consistently funny…I intend it as real praise when I say that 'I Am Martin Eisenstadt' is the best fake memoir of the campaign season." – Atlantic Monthly Sr. Editor Joshua Green in The Washington Monthly

"What Stephen Colbert is to Bill O'Reilly, Martin Eisenstadt is to countless political pundits. Hilarious…biting commentary on Washington, DC." – Jeremy Jacobs, Politics Magazine
And on CNN, Howard Kurtz talked up the pair and their book:
The book has been released in paperback, and I hope you consider purchasing it. And I don't just say that because I'm included in the book as "Wolfrum, the supposed golf blogger based in Brazil, who since May 2008 has been lobbing absurd online accusations against me?"
Mostly, I just want to congratulate Dan and Eitan. Because while I feel good about the work I did in outing the hoax, they did an even better job in outing media pundits as much more serious imposters.
–WKW
Today on his radio show, Rush Limbaugh praised the new book by Martin Eisenstadt, "I Am Martin Eisenstadt: One Man's (Wildly Inappropriate) Adventures with the Last Republicans."
Limbaugh spoke for more than an hour about the book, giving it extremely high praise.
"This Eisenstadt, he has written the best book on politics I've ever read," said Limbaugh. "This book is way, way better than the Bible. You can quote me, Rush Limbaugh, on that."
Limbaugh went on to say that the book has changed his life, and he demanded all his followers to buy it, immediately.
"If you don't buy 'I Am Martin Eisenstadt: One Man's (Wildly Inappropriate) Adventures with the Last Republicans.,' then you are clearly not the type of person I want listening to my show," said Limbaugh. Take my word for it – I, Rush Limbaugh, love this book."
"I Am Martin Eisenstadt: One Man's (Wildly Inappropriate) Adventures with the Last Republicans," will be available in bookstores tomorrow, Oct. 27.
Update: Several readers have come forward to let me know that I've been hoaxed and that Limbaugh said no such thing. Regardless, I don't care if these quotes are made up. I know Limbaugh thinks it.
–WKW
As the world prepares itself for the release of Martin Eisenstadt's heralded book, one thing about the whole thing still bugs me a year later.
You see, Carl Cameron went on Fox News and told Bill O'Reilly that a McCain insider told him that Sarah Palin was confused about whether Africa was a country or a continent, among other things. A couple days later, "Eisenstadt" came forward and said that he was the source. That was the entire hoax. They pretended to be the source. They were not. They just claimed to be the source. They did not fool Carl Cameron.
Let's allow Eisenstadt co-creator Dan Mirvish put it simply:
"To be very clear, no, we were not the source for Carl Cameron and never spoke to him," Mirvish tells TVNewser. "We took credit for his anonymous sourcing. If they were going to be cowards, then we figured we may as well step in."
Many Palin supporters jumped on the Eisenstadt angle and decided the whole Palin/Africa thing was started by them. It wasn't. Let's let conservative blogger Allahpundit explain it simply now:
"What isn't true: Speculation that "Eisenstadt" was indeed Cameron's source and that CC got duped the same way MSNBC did."
Just for the hell of it, let's make a handy timeline:
1. Source tells Cameron that Palin was unsure whether Africa was a country or continent
2. Cameron reports this on Fox News, not giving his source.
3. Palin essentially confirms the "Africa" comments happened, claiming her comments were taken out of context.
4. Martin Eisenstadt says he is the source.
5. Martin Eisenstadt wasn't the source.
6. The McCain insider that was the source for the Palin/Africa story is still unknown.
While I fully expect Palin supporters and some conservatives to ignore this completely and go on believing whatever they want to believe, I figured I'd take one last shot at clearing that up.
–WKW
As the world's foremost expert on Martin Eisenstadt, I've done quite a bit of snooping around to learn more about his upcoming book, "One Man's Wildly Inapproriate Adventures with the Last Republicans."
Now, first of all, the title of the book is much better than what it was originally: "One Man's Barely Legal Adventures with the Last Republicans" (seriously).
Secondly, using my vast Internet detective skills, I found some of the pre-released book. As normal, Eisenstadt is fairly clueless and left it hanging around his site. And let me tell you, this book could be a political bombshell, as it names name: Sarah Palin, Rachael Ray, the Jonas Brothers, Miley Cyrus, Britney Spears, Bobby Jindal, Dick Cheney to name a few.
Of course, Eisenstadt got a shot in at me: "And who is this "Wolfrum," the supposed golf blogger based in Brazil, who since May 2008 has been lobbing absurd online accusations against me?"
Find out more about the book and about Martin Eisenstadt's bizarre past by clicking here (note, it's a PDF). Of course, the book comes out on Tuesday. I'm hoping to have the whole book online by then, however.
–WKW
Throughout my long and inglorious writing career, I have always held true to the concept that money, fame, and recognition was always secondary. Good work has always been its own reward. These words I have lived by. But no more.
You see, in slightly more than two weeks, Martin Eisenstadt will have his first book – "I Am Martin Eisenstadt: One Man's (Wildly Inappropriate) Adventures with the Last Republicans" – hit the stands. This is the same Eisenstadt that I spent part of 2008 conclusively proving was a hoax. The one who was wrong about everything (except Sarah Palin's $900 spray-on tan. Turns out that was true.). And he gets the book deal. To make matters worse, he mocks me – by name – throughout the book.
Well, let me tell you, I'm somewhat peeved. And I will take it no longer.
I hereby denounce Martin Eisenstadt's upcoming book. I also denounce Martin Eisenstadt, his assistants, his family and his pets, provided he has any. Consider this a full-blanket, scorched-earth-type denouncement. I really want to have my bases covered on this. I also denounce the food he eats.
In denouncing Eisenstadt, I join a long list of conservative commentators like Debbie Schlussel who long ago denounced him. Knowing that far-right thinkers are always astute judges of character (see Bush, George W.) I believe that now is the correct time to denounce Eisenstadt.
But denouncement isn't enough. It never is. What we need here is a full-scale preemptive strike. And I'll let Schlussel deliver it:
"When I was a teen and worked as a summer intern on Capitol Hill, there was a fellow intern, [Martin Eisenstadt], who worked for Jack Kemp. An Orthodox Jew, [Eisenstadt] was an extremely good-looking guy on his way to becoming a rabbi. Instead, he became a liberal."
Yes, my friends, radical right neo-con extraordinaire Martin Eisenstadt is, in fact, a liberal. He'll deny it, but it's something you should really keep in mind when you decide whether or not to buy his book.
–WKW
Judd Bagley, an employee of Overstock.com, recently visited this blog to hurl invectives at yours truly.
In response to this post about the infamous Martin Eisenstadt, Bagley had this to tell me:
"Hey Bill…you're not mentioned in that video clip. And that book probably does not exist. I think you think you're more important than you really are."
and …
My mistake. I watched the clip again and saw that the first four letters of your last name did appear for 1.5 frames. Wow. You really are something, after all.
Well, I suppose Mr. Bagley showed me. After all, when you work for a publicly traded corporation like Overstock.com, it's vital to troll around obscure blogs and act snide. I'm sure Overstock.com investors appreciate his hard work.
Maybe one of these days Bagley and his boss Patrick Byrne will actually discuss the apparent Ponzi scheme going on with Overstock.com. Or maybe they'll just continue to attack anyone that says anything about their financial reports.
I would imagine they'll stick with the latter, after all, Byrne was an original backer of the Swift Boat Veterans for the truth. Who knows, though. Maybe Martin Eisenstadt himself should be advising Byrne and Bagley.
–WKW
P.S.: At this very moment, the de-gayed Partially heteroganized Ted Haggard is on Twitter working to show me that he's a good guy. When has Haggard ever Tweeted Bagley? Never. So there. Take that. I maintain my ludicrously high opinion of myself.
For those of you unaware, I spent part of 2008 scooping the mainstream media (by several months) and providing conclusive proof that Martin Eisenstadt was a grand hoax.
My reward – Getting libeled and being cast as the villain in his upcoming book. See for yourself:
This isn't over. Not by a longshot.
–WKW
After an acrimonious year-long investigation, I finally met with Martin Eisenstadt earlier today in the green room of a local news organization (it was undergoing renovations, I believe). And while the notorious neo-con pundit bragged as much as he could about his upcoming, tell-all book, one thing is for certain – neither of us left the meeting very impressed with one another.
More on this epic meeting at a later date …
–WKW
Here's a look at the posts I wrote, the research I did, and what others wrote during my chase of "Martin Eisenstadt," the hoax John McCain Campaign worker that turned out to be the work of filmmakers Eitan Gorlin and Dan Mirvish.
My Posts
Other Sources
A long, long time ago, on an Internets far, far away, two filmmakers who briefly hoaxed a blogger from a popular Web site. Chagrined, the blogger began researching how and why he was hoaxed, and eventually came up with the truth. This is that blogger's story.
Yes, friends, yesterday I got to watch a media storm from the inside. Except that I learned that you don't really get to be on the inside if you don't fit the narrative.
It goes a little something like this: A few days ago, my one-time nemesis Martin Eisenstadt finally stumbled upon the perfect hoax. It went down something like this: Carl Cameron of Fox News told Bill O'Reilly that "anonymous campaign sources" had told him that Sarah Palin didn't know whether Africa was a country or a continent among other things, including that she once greeted McCain campaign workers while wearing a bathrobe or towel (the horror!) when they met her in her hotel room to talk shop. After a couple of days, Eisenstadt took credit for being that source and all hell promptly broke lose as several mainstream media types – including MSNBC, The New Republic and Andrew Sullivan – reported this as fact.
Of course, it wasn't. Martin Eisenstadt is a hoax. But you knew that. I shared my research here and at Shakesville, leading to a post on June 10 where I was able to make the connection with Eisenstadt and viral blogger Abrad2345 and culminating with a post that presented video evidence that the "Eisenstadt" character was a put-on.
[Read more]
(Update: As I was saying.)
Let me just get this off my chest once and for all: Martin Eisenstadt was not the source for Carl Cameron's Fox News story about "anonymous sources" telling him that Sarah Palin did not know whether Africa was a continent or country, threw temper tantrums, etc.
Cameron spent the entire campaign with McCain. He knew everyone who worked there. He never spoke to Eisenstadt at all. The "anonymous sources" are still anonymous, and all they were doing was dumping blame on Palin to take the focus off the fact that those on McCain's campaign were horribly, horribly inept.
So for bloggers and others who now know that Eisenstadt is a hoax, yet now believe that somehow Eisenstadt tricked Cameron, well, you are equally guilty as MSNBC and others who fell for the original story from Eisenstadt.
Whoever told Cameron about Palin's foibles remains anonymous. This really shouldn't be that difficult to figure out.
P.S.: And, yes, I exist. I do dabble in satire, but I'm not a hoax. Seriously, people, you're killing me here.
–WKW