Ok, count me in as a fan of the Web Comic xkcd: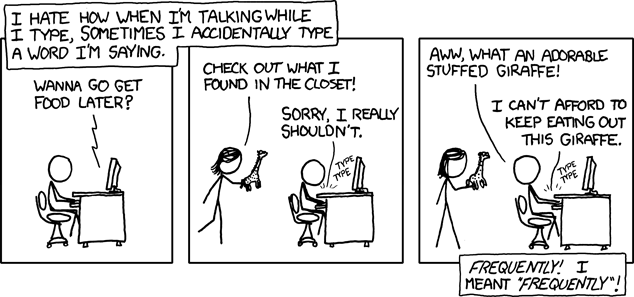 HT Auguste
-WKW
For all the column inches and TV time given to promoting the need to attack Iraq, the beginning of the (sort of) pull out of U.S. troops from Iraq has been met with the resounding sound of crickets from the U.S. media.
-WKW
NEVERLAND - Several children that had been molested by recently deceased pop star Michael Jackson have come forward to express their thoughts on his death. While none of Jackson's victims would use their real names out of fear of retaliation from Jackson's fans, most marveled at the "King of Pop's" legendary musical careers.
"He was such an amazing talent," said Bob Jones, now 23 and living in a box underneath the Santa Monica Freeway. "Sure, I still have terrible nightmares, but he really revolutionized pop music."
Another of Jackson's former victims came forward to state that Jackson's legacy should be all about the music.
"I've been drunk for the last 14 years, but from what I've heard, I haven't missed much from him," said Joe Smith, now 24 and living in a San Jose halfway house. "But seriously, his early work was magnificent."
At least one other of Jackson's victims praised his dancing ability.
"I mean, the guy created the Moonwalk," said Ted Lyons, now 26 and residing in San Quentin Prison for a variety of crimes. "It's pretty much impossible for me to have a relationship due to the horrifying trust issues I've had to deal with since I knew Michael, but if I ever had a child, I'd teach him some of MJ's dance moves."
In other news, more of Jackson's surviving victims - several long ago committed suicide and were unavailable for comment - are getting together to write a tribute book to Jackson entitled "Michael Jackson: He Molested Us and Ruined Our Lives, But Thriller was Freakin' Awesome."
-WKW
ROME, Italy — Scientific tests of bones housed in the Basilica of St. Paul in Rome are those of the apostle St. Paul himself, according to Pope Benedict XVI, thus proving once and for all that the pontiff is utterly full of crap.
"Tiny fragments of bone" in the sarcophagus were subjected to carbon dating, showing they "belong to someone who lived in the first or second century," the pope said. "This seems to confirm the unanimous and undisputed tradition that these are the mortal remains of the Apostle St. Paul."
The scientific community was quick to respond to Benedict's claims.
"This supposed scientific discovery helps us better understand the Pontiff," said a scientist who refused to give his name due to the stories overreaching. "By using the scientific method, we can now claim with 99.9 percent accuracy that the Pope is totally full of crap."
Nonetheless, the Vatican is standing by its claims, stating that their faith has been bolstered by nonsensical scientific facts.
"We're positive this is St. Paul," said a Vatican spokesman. "We also found some weeds out back that have been carbon tested and are very likely the bones of Satan himself."
Non-Catholics have also devised their own scientific tests to help learn more about the Pontiff.
"We just found some artifacts that prove that the Pope is a supporter of Holocaust deniers and homophobes," said the Very Revered Tim Johnson of Tupelo, Miss. "We really feel that all this new data paints a broad picture of a Pope who is completely and utterly full of shit."
-WKW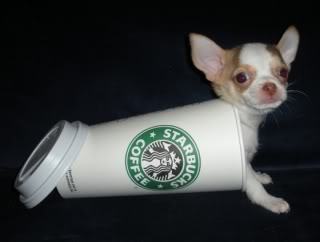 I needed a little puppy-in-a-cup to help recover from the disappointment of the U.S. loss to Brazil in the Confederations Cup. Still, no matter how much my Brazilian wife is now talking trash, it was a tremendous showing by the U.S. Soccer team. They leave South Africa proud and confident, with a year to prepare and improve for the 2010 World Cup. Bravo to the U.S. squad for an eye-opening performance.
-WKW
Let me just say that the Grand Canyon was truly impressed with seeing me for the first time.
-WKW
William K. Wolfrum made this statement to his supporters at 3 p.m.
"My friends, we are living in progressive times and being led by a progressive leader. In fact, President Barack Obama is so progressive, he constantly reaches his hand out to non-progressives, even if he generally only pulls back a bloody stump.
But Obama's almost maddening need to reach bipartisan consensus on many issues means that results are right around the corner. Nowhere is this more evident than in the fight for gay civil rights. Obama - knowing America is a diverse nation - has simultaneously called gays and lesbians pedophiles, as well as calling himself a fierce advocate for gay rights. And while many feel that by playing both sides of the fence, Obama is destined to leave everyone displeased, I believe the exact opposite is true.
Because gay rights is a very sticky political issue, and it would be crazy for Obama to adopt the far-left platform on them. It would likely be even crazier if he even did what he said he'd do when he was but a candidate for President. But this should not be a problem for the President. By appealing to all voting-aged Americans on the gay civil rights issue, Obama can make all voting-aged Americans happy and more liberated.
In the end, it will all have to break down to percentages. Due to the vast array of opinions on these issues, this will give gays and lesbians the most politically feasible civil rights they can ever hope for in a nation like the United States. Going over public opinion, I have created a basic framework for how Obama can give a percentage of gays and lesbians the rights they deserve, while giving civil rights opponents the opportunities to hate that they so cherish:
Gay Civil Rights By The Numbers

70 percent of all gays and lesbians will be allowed to have civil unions with same-sex partners.
60 percent of all gays and lesbians will be allowed to have same-sex marriages.
50 percent of all gay and lesbian marriages or civil unions will be respected by other states.
40 percent of all gays and lesbians in the military will be allowed to honestly disclose their sexuality without being fired.
30 percent of all gay and lesbian couples will be allowed to adopt.
25 percent of all gays and lesbians will be protected by Anti-discrimination laws.
20 percent of all gays and lesbians will not be allowed to use public restrooms.
10 percent of all gays and lesbians will be forced to accept angry homophobes screaming "faggot" right in their faces.
8 percent of all gays and lesbians will be forced to accept physical violence against them by angry, violent homophobes.
3 percent of all gays and lesbians will be allowed to be murdered by angry, violent, psychopathic homophobes.
As you can see, this comprehensive list of new gay civil rights will appeal to all Americans, from the 60 percent that favor gay marriage, to the three percent of Americans who want to kill gays and lesbians. At first blush, this list may seem unfair to gays and lesbians, but gay civil rights is not about actual gays and lesbians - its about Barack Obama's favorability numbers. By appealing to all Americans on gay civil rights, Obama will continue his reign as a popular president who is willing to reach across any aisle, or throw any of his supporters under the bus.
In the end, we will see if the percentage plan passes through Congress. If it does, then Obama needs to follow the same blueprint in his battle for healthcare. One could easily envision a scenario of allowing 50 percent of all uninsured Americans die (which would cut the number of uninsured Americans in half) while giving insurance companies 100 percent of profits (which would make lobbyists happy.)
We will see how it all plays out. But what's most important is that Obama stays away from doing things on "principle" or avoids his own personal "morality." In a complex nation like the U.S., such things are just words. What matters is that Obama does whatever it takes to make all voting-aged Americans happy when it comes to gay civil rights. We can all worry about how actual gays and lesbians feel about it all later. Because one day, a leader will come forward that believes more in civil rights than in votes. And we know that day won't come for at least another four years.
Thank you and I have retained counsel on this matter."
-WKW
Over the last year, I've worked on several stories involving Internet hoaxes, including the Martin Eisenstadt hoax and the Ben & Jerry's "CyClone Dairy" hoax. On a couple of these stories, I've had the pleasure of working with journalist Diane Tucker of The Huffington Post. Tucker, who takes journalism quite seriously, has given Huffpo readers the inside scoop on some of these stories.
Of course, these days, Tucker may need to look at The Huffington Post itself, as the prominent liberal news site has taken to giving its readers a fake out of its own. According to Wired, Huffpo - as well as Salon - has taken to running "advertorials." The only thing about these advertorials - which are generally plainly marked as advertisements in newspapers and magazines - is that they take the form of real stories from real news sites.
From Wired:
That "News5Alert" ran in a rotating ad spot on HuffPost last week, though it was not identified as an ad. Clicking on it took you to a story from "News 5″ in Sacramento — which is not a TV station — revealing how one Mary Steadman now makes $6,500 a month working from home, thanks to an internet course called Google Home Income.

The story has art, it has a sidebar, there's weather, supposed reader comments — even ads. Steadman is described as "a mother from San Francisco" — at least, when I read the article. Thanks to cutting-edge reporting techniques perfected by News 5, she will automatically move to the geolocation of your internet IP address when you read it. Look, she lives right in your neighborhood!

Salon displayed a similar ad yesterday, showing a newspaper clipping with the headline, "Can You Really Work Online at Home? We Investigate This Trend."
Read the whole story from Wired and decide for yourself whether or not Huffpo has crossed a line between news and hucksterism. Personally, I go with the latter. Because while making money in the news biz is no easy feat, tricking readers out of their hard-earned money is the stuff of low-brow tabloids, not for the biggest news web site on the planet.
-WKW
TMZ is reporting that Michael Jackson - whose career has showcased both his musical genius as well as his personal flaws and demons - has died at the age of 50. While reports still are coming in about Jackson - who suffered cardiac arrest - now's a time to remember just how gifted he was. Here is his first-ever single, "I want you back."
-WKW
John Cole has a pretty accurate breakdown of the ever-changing talking points on the economy that the GOP is endlessly running up flagpoles.
New wingnut talking point: Stimulus bill hidden sexist attack on America's testicles by ball-busting abortion-having lesbian feminists.
Read the whole thing here.
-WKW
It's nice being back in the U.S. where freedom and liberty reign … Unless you're gay. Then the federal government can fire you from the military, and deny you the same rights that heterosexuals receive.
At some point, like Mark Stanford, I'm going to have to come clean about why I spend so much time in South America.
Next year on TLC: "Mark, Jon, Kate and 8″ a new reality series about three lovelorn losers and the people they cheat with.
The race for the GOP nod in 2012 is now between several adulterers, a winky grandmother and a Mormon with the depth of a puddle. Feel the conservamentum.
Remember when torture was a big story? Or Iran? Or North Korea? Or the economy? Or the car companies? Probably not, but at least we're getting pretty solid coverage of John Ensign's and Mark Sanford's infidelities.
-WKW
I didn't get to see the game due to traveling, but I am as shocked as anyone and as pleased as most. Just a stunning result over a Spain team that has been untouchable. And earning a spot in the Confederations Cup final? Truly amazing.
I guess I picked the wrong week to slam Landon Donovan and U.S. Soccer. In fact, the team has done little wrong since I hit "publish" on that post. And I couldn`t be happier.
-WKW
Soon, the U.S. will have one more loudmouth, know-it-all liberal on its hands, as I will be spending the next couple days traveling before resuming my court-ordered blogging schedule.
In my absence, please use this comment thread to praise me, compose haikus or operas to me, or just lament the overall uselessness of life in a non-WKW world.
-WKW
Is it conspiratorial or skeptical to wonder how Iran protesters had protest signs in English so quickly? Between that and Twitter, it's like they've done a whole version of the conflict with subtitles.
-WKW
Just three days following a 3-0 thrashing at the hands of Brazil, the survival of the U.S. Soccer team in the Confederations Cup was not even an issue - they were out of it. Following a 3-0 whipping of Egypt, however, the U.S. has managed to inch past Italy and into the next round. Italy, losers to Egypt, were thumped by Brazil, 3-0. When all the math was done and tie-breakers figured, the U.S. moves on to play again.
And while I don't know if I'll completely back off the heavy critique I gave the U.S. and Donovan following the loss to Brazil, I give the team respect for delivering a serious rebuttal. The U.S. was dominant throughout and finished strongly, while Donovan was at his speedy and nifty best, setting up the second goal.
For all involved on the U.S. side, it was a well-done retort, and a tournament that looked to be a dismal affair has now turned into a high point for U.S. Soccer.
-WKW