Ernest Hancock and Freedom's Phoenix "watering the tree of liberty" with guns at an Obama appearance.
I've written several times about Overstock.com CEO Patrick Byrne, focusing on his love for intimidating and slandering financial journalists, his constant misleading of investors, and other subjects.
Byrne - who has led Overstock to yearly loss after loss and has been key in driving OSTK stock to it's current $5.01 per share - is also an extreme right-winger. Not a Sean Hannity-type extreme right-winger, mind you, but closer to one of those faux-Libertarian, overthrow-the-government types of extremists.
Such does Byrne support the right-wing libertarian militia movement, that he was recently a guest of Earnest Hancock on Freedom's Phoenix radio show. Who is Hancock, you ask? Well, just someone who has been accused by Arizona State Senator Russell Pearce  - a far-right conservative himself - of being a terrorist.
Ernest Hancock, the online radio host who staged  an interview with an assault rifle-wielding associate at the Obama event in Arizona yesterday — and was himself armed with a 9 millimeter pistol — was a vocal supporter and friend of right-wing anti-government militia members who were convicted of conspiracy and weapons charges in the 90s.

And in an interview today with TPMmuckraker, Hancock said he still believes the Viper Militia case was "manufactured" by the same government that manufactured Waco  and lied to its people about 9/11.

The federal government initially accused the Arizona Viper Militia of plotting to blow up federal buildings, which the twelve-member group cased on videotape.

In July 1996, after a grand jury indicted the suspects, federal agents "seized about 90 high-powered rifles and hundreds of pounds of a bomb-making compound from the shabby bungalow of a man whom officials identified as the ordnance specialist of a local paramilitary group," the New York Times reported at the time.

Hancock, who in recent years designed the famous "Ron Paul rEVOLution" graphic, was an oft-quoted defender of the militia members. The tapes of the government buildings, he said at the time, were purely "educational."
More on Hancock and the Viper Militia here, via TPM and here at The Huffington Post.
Byrne - who notably railed against Utah voters for rejecting his push to "reform" the Utah school system by making it a voucher program and runs the libel factory known as Deep Capture - shared some of his radical, paranoid views with Hancock, including his claims that "Naked Short Sellers" have destroyed the stock prices of his mismanaged company.
Hancock is not currently under arrest, and it was by no means a crime for Byrne to appear on his radio show. But it shows he is a supporter of those with radical and dangerous ideologies. If you don't think right-wing terrorism is a problem in the U.S., read some of David Neiwert's work on the subject.
People like Hancock like to talk how they just want to be "left alone" by the federal government, but what they really want to be left alone to be racists who dream of an overthrow of the U.S. government. These are violent, ignorant, paranoid people who fantasize that Ron Paul will someday be President and allow them to unleash chaos in the name of of something they like to call Libertarianism.
And Overstock.com CEO Patrick Byrne supports them.
-WKW
Folks, I just checked, and it's official - my money is funny and my change is strange.
I have long loathed the idea of having a fund-raiser at my blog, for numerous reasons. Mainly, I was getting by as a freelancer. But as the years have gone by, my contacts have dried up and my earning levels are about nil. And bills are piling up. Thus, the time to humbly ask for donations has arrived.
I have had this site for a decade now and have been blogging for eight years. My first couple years of blogging was at a golf Web site, where I was either the world's greatest, or worst golf writer, depending on your opinion. Since then, I have written 3,000 blog posts here. While some of my work has been forgettable, I have had some accomplishments over the past eight years. Such as:
- Made international news by unraveling the Martin Eisenstadt hoax months before the media was duped by him.
- Gotten more people to enroll in the National Bone Marrow Registry.
- Detailed my trip to Carnival in Rio.
- Kept pressure on Overstock.com CEO Patrick Byrne
- Written several blog posts that have gone viral.
- Become somewhat of a star on Twitter.
- Been mentioned or interviewed by the New York Times, Washington Post, Time Magazine and many other major publications.
- Shared my stories as a recovering alcoholic.
- Live-blogged all of Fox News' coverage of the 2008 Presidential election.
And much, much more.
Basically, I've enjoyed my work as a blogger more than I've enjoyed any other occupation in my life. But financial concerns are forcing me to blog less and hustle more in an effort to keep my home finances in order. I have been offered ads to put on my site before, but I have never felt comfortable with what they were selling.So we have this fundraiser.
I have developed a well-earned reputation as someone who tends not to finish what he starts. I started this blog a decade ago and in that time have gained more success and notoriety than most bloggers. I have made people laugh and think. I have placed myself in good position for the future as a writer and blogger and am proud of my reputation. And now I could use some help if you're in a position to donate. Because this is a job I truly want to finish, and the job is far, far from done.
With thanks,
Bill
Rush Limbaugh apparently isn't the only one paying dearly for his misogynistic ways. Overstock.com boss Patrick Byrne, who has shown himself to be a first-class misogynist himself ("So, why exactly did you become a reporter? Giving Goldman traders blowjobs didn't work out?" he once e-mailed business reporter Bethany McLean), is currently riding his Internet retailing company straight into the ground.
Via Sam Antar:
Last Friday, Overstock.com (NASDAQ: OSTK)

reported

a fourth quarter net loss of $3.4 million compared to net income of $14.9 in the previous year's fourth quarter. Its revenues declined 10% to $314.1 million compared to $348.9 million in the previous year's fourth quarter. Details of the fourth quarter financial results were so bad, that Overstock.com did not present a full income statement for that quarter in its

press release

. Instead it only provided key metrics of its fourth quarter numbers and presented a full year income statement. For the entire year, Overstock.com reported a net loss of $19.4 million compared to net income of $13.9 million in the previous year. Its 2011 revenues decreased 3% to $1.054 billion compared to $1.090 billion in the previous year.As of December 31, 2011, the company reported a net working capital deficit (current assets less current liabilities) of $14.1 million. Overstock.com's negative net working capital balance indicates that it's having problems paying its bills as it entered into its traditionally weakest quarter of the year (the first quarter of 2012). Overstock.com common stock closed at $6.11 per share, down $0.77 per share as investors reacted to the company's horrible earnings report.
This is the latest setback for Byrne & Overstock.com, which has spent years "cooking their books" and misleading investors. In 2011, OSTK managed to make one of the year's greatest PR blunders in trying to change its name to "O.co" (not a typo, that's the name).
The recent report came as a surprise to analysts. Via Reuters:
Analysts, on average, had expected the company to earn 45 cents a share, on revenue of $377.6 million.
One wonders who these analysts are. For those that have kept their eyes on Byrne - a donor to the Swiftboat attacks on John Kerry and a fierce supporter of a failed school voucher initiative in Utah - this collapse of his company has been easy to predict for some time now. And it appears no matter how hard he tries to libel & slander business journalists  (he's currently being sued for libel in Canada), his company will pay the ultimate price for his mismanagement.
-WKW
It appears Canada doesn't abide a CEO inventing crimes against one of it's own. Vancouver's Altaf Nazerali has won a court order to - least temporarily - shut down the deepcapture.com website.
From Stockwatch:
The order came the same day that Mr. Nazerali filed a notice of claim against the site and its operators. He claimed that deepcapture.com linked him with Mafia figures and an associate of Osama bin Laden, among others. The defendants included naked short-selling conspiracist Patrick Byrne, who is the publisher of the site. (Mr. Byrne is also the chief executive officer of Internet retailer Overstock.com Inc.) Also a defendant was Illinois resident Mark Mitchell, who the suit identified as the author of much of the material that Mr. Nazerali complained of.

According to the suit, deepcapture.com posted the defamatory material in a series of chapters. One, dated July, 2011, stated that Mr. Nazerali was an important figure at Bank of Credit and Commerce International, "the massive criminal enterprise that did business with everyone from La Cosa Nostra and the Russian Mafia to Colombian drug cartels." His business partners, as listed in the passage, included Mufti al Abbar, "chief market manipulator for Muammar Qadaffi," and "an impressive number of securities traders who are also narco-traffickers (such as Paul Combs, until Combs was whacked by Nazerali's mobster friend Egor Chernov)."

Another chapter claimed that Mr. Nazerali's associates included Yasin al Qadi, "Osama bin Laden's favorite financier." It also linked with other Middle Eastern figures. "Nazerali, recall, has working relationships with … members of Al Qaeda's Golden Chain, the regime in Iran, Pakistan's ISI, the chief of Saudi intelligence, the ruler of Dubai, the royals of Abu Dhabi, La Cosa Nostra, the Russian Mafia, and others in the Milken network."
Look for Byrne & cronies to decry this to be an attack on his first amendment rights. The problem for Byrne - who recently got Current TV's Young Turks to praise him for attending Occupy Wall Street - is that Canada doesn't appear to accept that blatantly lying about people to be a right.
It will be interesting to see what happens next. I presume the website was shut by its web host, and of course there's nothing to prevent Byrne from moving the content to Iran or wherever, all the while bleating about how his right to make stuff up about people has been infringed by dastardly Canadians. The judge is just going to love that.
Yes, this most definitely will be interesting.
-WKW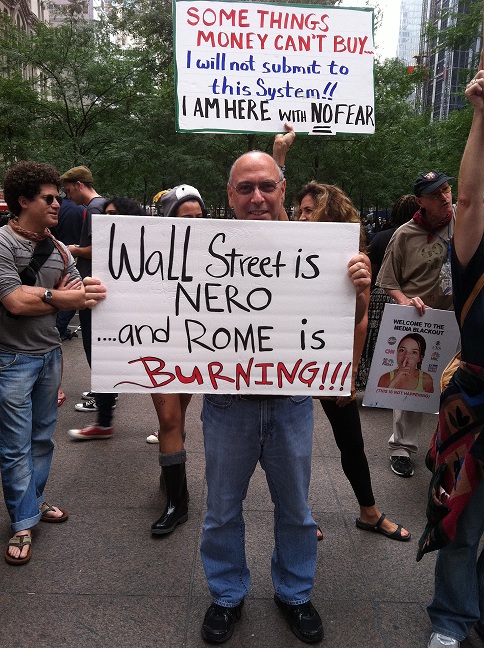 On his way to visit his son who works nearby, former Crazy Eddie's fraudster Sam Antar stopped by and visited the protesters at Occupy Wall Street.
"It was a refreshing experience to see peaceful protests and people exercising their freedom of speech. The cops were OK with it, too," said Antar.
-WKW

The Meaning of "Austerity." The privileged won't feel it.
News/Politics
G20: By the time they're done, you'll still be unemployed and rich people will still pay less in taxes.
Austerity!: When Austerity comes to America, it will be wrapped in a Democrat.
Patrick Byrne is gone. Gone, I tell you. And he could be anywhere. Any. Where.
This report just came in from Sam Antar, the infamous whistle-blowing criminal:
Overstock.com (NASDAQ: OSTK) finally held its scheduled conference call with analysts to discuss the company's dismal third quarter earnings report which was released last Friday. On that day, Overstock.com stunned investors and reported a Q3 2010 $3.381 million loss or a loss of $0.15 per share compared to a Q3 2009 reported loss of $1.379 million or a loss of $0.06 per share. It was the second consecutive quarter that Overstock.com failed to meet Wall Street analysts' consensus expectations for earnings. However, instead of facing the music, Overstock.com CEO Patrick Byrne was absent from the call.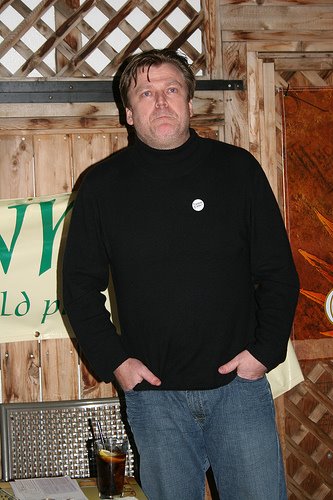 Yes, Byrne – who LOVES to be seen and heard – was missing from the event. For his part, Antar has a theory:
Back in the Crazy Eddie days, it was known as "SEC induced sudden illness syndrome" or by the short acronym SIS. Common symptoms include panic attacks, headaches, nausea, cold sweats, trembling, stomach pains, vomiting, and worst of all, diarrhea. At least the weight loss isn't so bad. However, the SEC commonly refers to anyone suffering from SIS as a SISsy.
While Antar may be on to something, it's important to remember that Byrne has made a career of running the retail sales powerhouse straight into the ground. But in using his own company to enrich himself and push his own school-girl vendettas, he has made some powerful enemies.
So where was Byrne? And where IS he?
Could it be that the Russian Mafia has finally gotten to Byrne? Remember, Byrne himself said that the Russian Mob wanted his head.
"We have a message from Russia. We are about to kill you. We are about to kill if you if don't back down," said Byrne to the Daily Utah Chronicle, relaying a time he said he was threatened at a "greasy Long Island bar."
Or maybe it's Naked Short Sellers (not to be confused with "Naked Short Spellers.") These evil, unseen, unknowable stock manipulators have focused all their considerable power on killing of Byrne and Overstock.com over the years.
Was it the notorious Sith Lord, who we now know is Michael Milken? Byrne has made it clear that the shadowy Milken is planning universal terrorism."
Here's some unintelligible garbage Mark Mitchell (who is actually dead laying under Byrne's house, but the byline is handy) had to write about the Sith Lord Conspiracy.
"Apparently, Lattanzio proposed marriage to the prostitute and gave her a diamond ring. Alas, the couple separated, and Lattanzio asked for his ring back. After all, it had cost him $289,275.00."
Damning.
Could it have been unethical business reporters have something to do with Byrne's disappearance? After all, Bethany McLean has been seen hitting the weights at her local gym.
Who could have abducted Patrick Byrne? He is a sweet, easy-going man that occasionally stalks his critics on Facebook, occasionally cashes in $3 million in stock moments before the OSTK stock in question plummeted, occasionally karate kicks, and occasionally lashes out wildly with wack-job conspiracy theories and attacks on anyone who would question his criminal ineptness, and repeatedly gets investigated by the SEC. That's all
Of course, while all these abduction and SIS scenarios are likely true – even simultaneously in the fevered mind of Byrne – it's probably more likely that his lawyers, his Daddy, and others have him under orders to keep his mouth shut. Because you never know what Patrick Byrne will say next, except for the fact it won't be the truth about how he's criminally mismanaged Overstock.com.
–WKW
I just noticed something - I forgot to promote any blogs in today's Morning post. I have to blame my own narcissism on this (if you know me, you quickly learn I'm all me, all the time.)
So, anyway, let's rectify this, shall we?
Blogs
Balloon Juice: E.D. Kain abandons Conservatism for all the right reasons.
Equalitopia: Being Gay on the set of the Power Rangers was not a pleasant experience.
LitBrit: Lit asks the big question: Do big cats like catnip?

Answer: Yes. Yes they do.
Petulant Rumblings: Some links from a Petulant perspective.
Gary Weiss: Apparently, the SEC is totally cool now with insider trading.
Podcasts
Skeptics Guide to the Universe: Phil Plait joins the rogues for some bad astronomy and more.
The Partially Examined Life: Should Spinoza be technically considered a pantheist or atheist? I'll expect your reports in the morning.
-WKW
A while back, my friend Sam Antar - a former key player in the infamous and egregious "Crazy Eddie's" fraud - told me that it was just a matter of time before Barack Obama faced impeachment charges.
"With all the stimulus money going out, the Republicans will eventually find some corruption charge they think will stick," said Antar, now a corporate whistle-blower who tends to view things from a non-partisan prism. "It's just a matter of time."
While Antar may have had his finger on the pulse of American politics, he did make one minor error - assuming the Republican Party will need a valid reason to begin impeachment charges against Obama. Recently, we've gotten a glimpse of just how little the GOP will need to begin destroying the Obama Presidency, as Liz Cheney called for a federal investigation into the complete non-scandal of Joe Sestak getting a job offer from the White House so he'd drop out of the Senate race in Pennsylvania.
Putting aside the almost other-worldly hypocrisy of someone named Cheney demanding a federal investigation into the Executive Branch, the Sestak screwiness should open the eyes of the liberal establishment, if they aren't open already. Republicans will impeach Barack Obama - on any charge they can find - just as soon as they have better numbers in Congress.
We've been through this before, of course. When faced with a popular, charismatic Democratic President in Bill Clinton, Republicans showed absolutely no shame is slamming the brakes on the Federal Government in order to impeach or, at very least, humiliate Clinton. In the end, the plan worked brilliantly, as George W. Bush was promoted as a great "moral leader" and won the Presidency over Al Gore in 2000. And while many will still dispute the outcome of the 2000 election, the simple fact is that it would have never even been close if not for the impeachment of Clinton.
In a purely Machiavellian sense, Republicans have always seemed to understand the game in ways Democrats don't. Because while American Conservatism is an ideology with few new ideas or plans, it is also an ideology that understands that power is the only thing that really matters. And they have proven extremely adept at regaining power, regardless of past performances in governing.
Republicans can not beat Obama at the ballot box. But you can be assured that they will do all they can so that his legacy is terribly tainted in scandal. There is just no way the GOP will allow Obama to serve out eight years and leave office with a strong record of liberal accomplishment that he can hand over to a Democratic successor. Simply put, for Republicans, Barack Obama must be destroyed and completely invalidated before his term or terms are over.
Republicans will attempt to impeach Barack Obama. The "why" of the matter is completely insignificant. They'll find something and work overtime to make it appear to be the Greatest Scandal Ever. It's just a matter of time. Provided, of course, that they have the numbers.
-WKW
Originally posted at Alan Colmes' Liberaland
While it's all fun and games with the pretend tough guys over at Overstock.com, Patrick Byrne and crew have done all us financial layman a favor - they've made the term "Cookie Jar Reserve" easier for us to understand. Yesterday, Overstock.com - working on deadline - restated their 2009 financial report.
A Cookie Jar Reserve is an illegal practice when a company under-reports
income during an earlier reporting period in order to inflate income for future reporting periods. It is a practice that misleads the investors of publicly traded companies like Overstock.
From Overstock.com's restatement:
"Correction of these errors is expected to shift approximately $1.7 million of income recognized in fiscal year 2009 back to fiscal year 2008."
Sam Antar - he of the Crazy Eddie Fraud scheme who was profiled here - has long been asserting publicly that Overstock.com has been cooking the books in this way. Antar has been vilified, threatened and mocked non-stop by Byrne and his PR shill/Partner-in-crime Judd Bagley. But this last restatement vindicates him, and shines an even greater light on the issuer retaliation tactics of Overstock.com.
Last year, I wrote a post titled "For Patrick Byrne and Overstock.com, the real story is in the financial reports." I led it off thusly:
Overstock.com CEO Patrick Byrne has had a busy week, attacking messengers and filing reports. As should always be the case with Byrne and Overstock, the real news goes on top – Overstock's financial reporting.
And the song remains the same. Because while Byrne's rants about naked short sellers and his blatant attacks on any who question his accounting may be all fun and games, it is pure diversion. What matters is the financial reports. And Byrne's guilt is consistently written all over them.
-WKW
There is a Judd problem in the U.S. these days. Whether named Bagley, Gregg or Wynonna, the name Judd has been slung through the mud, as it now carries baggage like pedophilia, pederasty, murder and more. One needs an Apple iPad to keep track of the carnage. Some recent examples:
Judd Bagley: Conservative hero Patrick Byrne's PR shill has long operated on the Karl Rove, Lee Atwater theory that viciously attacking your enemies is a good way to shut them up. Having been accused of being a possible pederast, a stalker and of outright threatening those that dare speak out on the disaster that is Overstock.com. From this Judd:


"I don't want to cause anybody unnecessary harm, but I'm beyond tired of the lies.

If you choose to continue as you have been, I will write about you on AntiSocialMedia.net. In doing so, my goal is not to intimidate, but to let you own your words; under those circumstances, I think the lies will take care of themselves.

Having said that, I'm also very much aware of the impact this could have on your reputation, especially where you live, and I feel obligated to offer you a way out."

Judd Gregg: After deciding not to be part of Barack Obama's Cabinet, Gregg quickly became just about as anti-U.S. Government as Hugo Chavez and as unpopular with the ladies as Tiger Woods is popular. To drive home the point, this Judd attacked two female MSNBC reporters for having the temerity to ask if he believed in Ronald Reagan's theory that the Department of Education must go. Some of Gregg's work:
Wynonna Judd: Ok, Wynonna herself seems Ok lately. But the country star sure can find trouble for the name Judd. A pedophile & Child porn lover entered her life via Scott Z. Myers, who home-schooled her two children. He been charged with distribution of child pornography. From Perez Hilton:


"Myers, who is only 27, admitted in an online chatroom that he engaged in sexual activity with four boys who lived nearby and was also seen leaving his apartment with two boys when the feds showed up to execute a search warrant."

Of course, this Judd seems to have a thing for men with pedophilia tendencies, as just three years ago:

"Wynonna Judd filed for divorce Tuesday from her estranged husband, less than a week after his arrest in Texas on sex charges involving a minor.

Dan R. Roach, 49, was arrested Thursday in Abilene and charged with three counts of aggravated sexual battery against a child younger than 13 in Nashville, police said."

On the bright side, sister Ashley Judd seems to be staying out of trouble quite nicely.

Judd Apatow: Ok, he hasn't been involved in any crimes that we're aware of, but he's apparently the only human allowed to make a comedy in Hollywood. And they've become little more than unfunny sexist dramas. No wonder entertainment fans are more interest in Brad Pitt, Angelina Jolie, Taylor Swift and Lady Gaga than watching an American-made comedy. This Judd is an anchor that's rapidly driving American culture down the crapper.
Charles Judd: Proving you don't need to be a famous Judd like Wynonna, Gregg or Bagley, this Judd is a paroled sex offender that was arrested on charges of second-degree murder in the slaying of a father and son.
While all this makes a compelling case for just arresting anyone with Judd in their name, that is sadly not the type of society we live in. But, hopefully, it will give something for Judd-minded parents to think about when naming their children. Better to stick with more conventional, conservative names. Like Madonna. Or Jesus.
-WKW
BRAZIL - Blogger William K. Wolfrum stared off into the distance, desperately trying to come up with an idea worth writing about. Looking forlorn, he finally gave up the chase and went to bed. It was 3 p.m.
"There's nothing, just nothing," said Wolfrum. "Not anymore."
The reason behind Wolfrum's malaise was simple - soon, he'd no longer have Overstock.com CEO Patrick Byrne to write about. And after spending the majority of the past two years writing about him, he was deflated, if not defeated.
Wolfrum - a self-described satirist known for posting pictures of his dogs and writing silly little things about Brad Pitt and Angelina Jolie - called Byrne a "Once-in-a-Generation" topic.
"Someone like Byrne doesn't come along too often," said an unshaven, unkempt Wolfrum. "Sith Lords, the Russian Mob, Diamond heists, naked short selling, stalking, bizarre and libelous attacks on business journalists, karate, pretending he's actually a journalist, etc. You can't invent someone like Byrne."
While Overstock.com continues its day-to-day operations, and could possibly survive in a healthier non-Byrne atmosphere, Wolfrum said the CEO is in the final stages of complete collapse. He pointed to SEC investigations, a possible tax evasion charge and the company's loss of David K. Chidester as CFO, as signs that the Byrne charade was nearing its end.


"Chidester either jumped ship or was pushed," said Wolfrum. "He left about three seconds after Roddy Boyd published a damning article about Byrne. But thus far, no one has really reported on it."
While Wolfrum admitted that Byrne was now, for all intents and purposes, completely impotent and only of interest to bloggers like him who liked making silly little jokes about him, there was at least one person in the Overstock.com crew who would likely keep going strong - PR Guy and "possible pederast" Judd Bagley.
"Bagley's a PR shill so he'll be fine, he's like a less-likable and less intellectually honest Karl Rove," said Wolfrum. "With the 2010 elections coming up, I'm confident he's far too nasty and soul-less to stay unemployed long once Byrne is done."
Still, Wolfrum said that people should expect to see Byrne in the public eye for a while. He pointed to Byrne's repeated appearances on Fox News, where friendly Fox News anchors would never even bother bringing up the fact that Byrne was under investigation by the SEC. Nonetheless, Wolfrum admitted the thrill was gone.
"Don't get me wrong, Byrne's committed to his clown act and getting attention," said Wolfrum. "And right now, the guy can't open his mouth without giving up Insider Information.
"So he'll be around - at least for now and then after he gets out of jail," added Wolfrum. "But all that's left now is the crying, for all parties. What can I say, I'll miss him. Patrick Byrne is a douchebag for the ages."
-WKW
Why exactly did Patrick Byrne become a CEO? Giving Goldman traders blowjobs didn't work out?

You see, Byrne is manifestly chimpanzee-like in both comportment and worldview–a fully arresting specimen of unsated mammalian appetition–a self-styled "journalist" who grunts and growls and snorts and says funny things.
But Byrne is on the take, and getting paid off somewhere in order to do hatchet-jobs-to-order. Is Byrne afraid his checks may stop clearing? Still, Byrne proves himself as resilient as syphilis.
As my feelings may not be obvious, in the interests of fairness and transparency I should at this point disclose that compared to Byrne I've observed more brainpower in a ice-head sitting on the floor of a 7-11 scanning the Comet and Pam Spray labels trying to remember the formula to make meth, and more dignity in a wino living on $2 hand-jobs at the bus station.
These days Byrne spends much time posting dozens of deposition-style posts directed at me and my colleagues, over-and-over, dozens if not hundreds per week (what an odd "hobby" for Byrne to have).
Byrne's hatchet jobs take an unusual form. They resemble Thomas Friedman's write-ups on the Arab-Israeli conflict: "Let's see, Arabs, Israel, Arabs… Israel, Arabs…….. Israel…… okay, I gotta call this one for the Israeli's." In op-ed after op-ed.
Can everyone sense Byrne sweating? He seems to be getting nervous, doesn't he? Hence the posts full of non sequitors and picking of nits about unimportant details.
To put it simply, Patrick Byrne Sucks It Likes He's Paying the Rent. Just remember, though - I'm not interested in "blasting" anyone: I am just a seeker of truth.
But Byrne is evil. I'll stand by that. More than evil, he's soul-less evil.
That said, I hope you understand that I don't have anything against Byrne per se. I have things I want, and he stands in the way, so now I'm removing him. At the same time, there's no reason we can't co-exist under specific circumstances.
If I don't hear back, I'll assume he'd rather take his chances on what's coming.
PS So May We Go with "Jamook"?
-WKW
For those of you that enjoy a good serial, I whole-heartedly advise you to spend a little time paying attention to Overstock.com CEO Patrick Byrne. Because, day-in, day-out, Byrne delivers the goods.
Emotional, paranoid, afraid and angry simultaneously at all times, Byrne is to corporate drama what Meryl Streep is to Hollywood drama. The set-up for the latest episode is apparently an upcoming article by former Fortune and New York Post reporter Roddy Boyd.

In a 5,000-word pre-emptive strike essay at the "All Overstock.com Enemies Must Be Destroyed" Propaganda site DeepCapture.com, Byrne takes time off his CEO duties to pen a 5,000-word diatribe against Boyd.
Some Highlights from: "In Today's Episode of "Nothing New Under the Sun": Roddy Boyd Sucks it like he's paying the rent, Exhibit Z" (after waking up, Byrne apparently crawled back some on the headline, btw), Byrne had these gems:
"that's him, just above the child porn guy."
"[C]ompared to Roddy I've observed more intellect in a ice addict sitting on the floor of a 7-11 trying to remember how to cook meth out of Comet and Pam Spray, and more dignity in a crackhead living off $2 hand-jobs at the bus station."
"Well we're still here and doing quite well, thank you, while your patron David Rocker plays shuffleboard in Florida, muttering my name under his breath like a wino's lament as he realizes that for years to come his own will give off a foul stench among the smart money set he so desperately aped. "
Roddy Boyd today emerged in possession of this material, which he proceeded to use in a clumsy attempt to reclaim his rightful seat at that ongoing hedge fund bukake gig in which he previously held starring role. (He ended up deleting this bit.)
"The Patrick Byrne & Overstock.com Show" is like an episode of "Desperate Housewives" gone horribly, horribly wrong. Sure, Byrne is adorable, and there are more lies than you can naked short sell, but - with Byrne writing late-night manifestos while his super-friend Judd Bagley is bragging to reporters about stalking - you get the nagging suspicion that this may all end with a hostage crisis.
Still, what helps make "The Patrick Byrne & Overstock.com Show" even more of a fun watch is the supporting cast. There's the aforementioned Bagley - easily one of the creepiest guys in the history of the Internet. And then there's "Investigative Reporter" Mark Mitchell - easily one of the crappiest writers on the Internet. (Sidenote: Has anyone ever talked to, or seen Mitchell in the last year or so? Because his crappy writing is sure a lot like Byrne's crappy writing. A possible new sub-plot?)
But it's Byrne's show in the end. Emotional, fearful and spoiled, Byrne is a fascinating character. And with a corporate board at Overstock.com that may have gone the way of Mitchell for all we know, Byrne is free to act the petulant child at any and all slights, real or perceived.
Of course, Gary Weiss spoiled the ending for all of us: "summed up in one word: Guilty."
Until then, however, enjoy the show. It's a wonderful mix of comedy, SEC investigations, stalking, attacking critics and more. And in Byrne, the Overstock.com saga has a a breakthrough star. More Cliff Clavin than Montgomery Clift, Byrne strikes the perfect balance between paranoid victim and angry crook. With Byrne in the lead role, "The Patrick Byrne & Overstock.com Show" promises to be a hit for the foreseeable future - until it ends dramatically and suddenly. Say in six months or so.
As for me, I'll be anxiously awaiting the upcoming episode when Boyd's article comes out.
-WKW
William K. Wolfrum: Remember, it was May 2009 when I brought up Tiger Woods and steroids. And wrote this story 2.5 years ago showcasing how and why steroids would benefit golfers. Just sayin`.
Juan Cole: Isn`t Obama supposed to be smart enough to know that patting down people on lists and racial profiling is just plain stupid?
Isn't it odd that one of the guys from Crazy Eddie's - convicted felon Sam Antar - is giving Patrick Byrne so much trouble. It's like Byrne can't get away with a single lie without Antar on him. And like most bullies, Byrne's a weakling who has been the CEO with the vapors. Losing that school voucher thing in Utah took all the sanity and courage out of him, I reckon. People with moral strength don't flee from Sam Antar. They don't flee from or hire mercaneries to fight off someone who OK`d this video.
Blog Note: This post can also be used to give me any comments you have on the current site theme. It has some changes to be made yet, but this is essentially what it will be. I am open to ideas, however.
-WKW