Wolfrum's Word
June is LGBT Pride Month. I, like many, have often overlooked the Transgender part of that equation, even though I'm well aware of the violence and intolerance directed toward them. I wrote down some of my thoughts on that issue in my latest post at Alan Colmes' Liberaland - Mike and Christine.
News
McChrystal's Ouster: Gen. Stanley McChrystal is out and Gen. David Petraeus is in. But that doesn't change the fact that things are still out of control in Afghanistan.
Still Gushing: For a time, yesterday, British Petroleum's oil geyser in the Gulf of Mexico was going full force. But with the cap back on and new plans in the works, BP is anticipating the gusher to be stopped … some day.
Health Care Woes: Remember when Republicans argued that the U.S. had the world's best health care system? They were lying.
Odd News
Twitsky: Russian President Dmitry Medvedev has now entered the world of Twitter. Lenin weeps.
Jesus Returns: Forty percent of Americans believe that Jesus will return by 2050. If they really read the Bible, they'd be terrified.
Sports
USA! USA!: Nearly 24 hours after Landon Donovan's World Cup-saving goal against Algeria, no referee has come forward to disallow it. So I think the U.S. is safely into the Final-16. Looking forward and dreaming: The U.S. could find itself in the semi-finals with wins over Ghana and South Korea if things play out right. But it's all gravy from here on out for the boys in Red, White & Blue.
Still Playing: At Wimbledon, John Isner and Nicolas Mahu played for 10 hours until darkness forced them to stop - with the fifth-set tiebreaker at 59-59.
Blogs
Bad Astronomy: Whooping cough is now an epidemic in California. Another victory for Jim Carrey and his merry band of ant-vaxxers.
Campaign for America's Future: Every way you measure it, it's been downhill for all but the wealthy since Ronald Reagan took office in 1981.
Trini Salt Like: The U.S. may have destroyed Trinidad's World Cup dreams 20 years ago, but here's one transplanted Trinidadian who has learned to love U.S. soccer football.
Tweet of the Day
"If Italy can beat Slovakia by three or more goals in #worldcup tomorrow, McChrystal gets his job back. FIFA has weird rules."
-WKW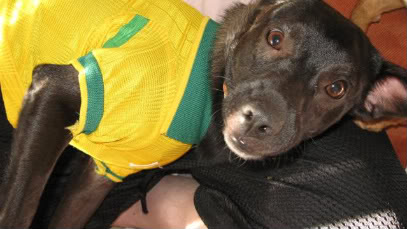 Brazil fan Zé Aparecido was pensive during the first half of Brazil-North Korea World Cup match.
News
Obama on the Oil Spill: Taking to his biggest bully pulpit, President Barack Obama laid out steps the government has taken and will take in fighting British Petroleum's oil disaster. The final step? Prayer. Lots and lots of prayer.
Ashburn Changes Course: Since being nabbed for a DUI coming from a Gay bar, California Sen. Roy Ashburn has seen the light. This Q&A showcases the new and improved Ashburn.
Prop. 8 Closing Arguments: The Federal Trial to judge whether California's Proposition 8 is Constitutional is today. Here's a handy guide to follow the action.
Wealth Inequality in U.S.: Not that facts should matter, but we are truly living in a second Gilded Age.
More: The first steps toward austerity in the U.S., the Truth of Bloody Sunday finally revealed, Arizona wants to toss American children out of the country, Westboro Baptist Church brainwashing children with hate.
Sports
Brazil Beats N. Korea: The North Koreans did all they could to slow down powerful Brazil, but an impossible-angle goal by Brazilian Maicon helped lead Brazil to the three points in its first 2010 World Cup match. In news from Brazil - the whole nation was up until 3 a.m. shooting fireworks after the game, my dogs are going to have a long World Cup.
Portugal-Ivory Coast Tie: Not a lot to say about this evenly matched game, except that when it comes to the top players in the world - Leo Messi and Cristiano Ronaldo - I'll take the humble and professional Messi over the vain and spoiled Ronaldo any time.
Bonus Portugal & Brazil Fact: You know how Polish jokes have long been a staple of American humor? Well, in Brazil they make those exact same jokes - but about the Portuguese. It's a fact.
Lakers Force Game 7: When the Lakers are playing at their best, Boston has no chance. In Game 6, the Lakers left it all on the court, and forced a Game 7 with a remarkably efficient 89-67 victory.
Blogs
Black Politics on the Web: The election of Barack Obama hasn't translated into more Black political candidates.
David G. Simmons: Taking a look at Obama's speech from the Oval Office.
DagBlog: The great Libertarian wonderland of New Hampshire is not quite all it's cracked up to be.
Tweet of the Day
"Remember when Ronald Reagan solved the Iranian Hostage Crisis thru power of Prayer (and selling arms to Iran)?"
-WKW
This probably isn't the week Mark Kirk envisioned. The Republican running for what was Barack Obama's Senate seat in Illinois started the week as a big Republican hopeful. Today - not so much.
Kirk was caught lying about his military record. That he could have survived.
The fact that the notorious Mike Rogers has outed him as a Gay Male? Naw, probably won't survive that in the GOP's Tiniest Possible Tent.
From Joe.My.God.:
Rogers goes on to recount having met Kirk personally at a 2004 party largely attended by gay men. It should be noted that Kirk has one of the more positive records on LGBT rights and recently earned an 88% score from the Human Rights Campaign. Last June he signed on as a House co-sponsor of ENDA.
What a difference a week makes.
-WKW
Dear Mr. Rekers,
We just wanted to send you a message to thank you for choosing Rentboy.com to "carry your luggage" and helping give us more publicity than we could have ever hoped for. Your help will put us on top this year.
While most of your beliefs terrify us, your decision to cruise over to RentBoy.com was a decision that truly changed our lives, and business model, forever.
So again, thank you so much for choosing Rentboy.com, and remember, if you ever need your luggage carried again, we've got the boys for you.
Love,
The RentBoy.com Team.
P.S.: Give our love to James.
-WKW
Eugene Delgaudio, the Republican District Supervisor in Sterling, Virginia, is a man that works hard to spread homophobia and keep many rights away from gay and lesbian Americans.
But in writing a fund-raising appeal, Delgaudio somehow turned all that hate into one big homoerotic masturbation story. An Expert from Thomas Wellborn at Alan Colmes' Liberaland:
Trembling with worry I went inside. It was worse than I ever imagined. Row after row of boxes bulging with pro-homosexual petitions lined the walls, stacked to the ceiling. My mind reeled as I realized hundreds, maybe thousands, more boxes were already loaded on the tractor-trailers. And still more petitions were flying off the press.

Suddenly a dark-haired man screeched, "Delgaudio what are you doing here?" Dozens of men began moving toward me. I'd been recognized. As I retreated to my car, the man chortled, "This time Delgaudio we can't lose."

Driving away, my eyes filled with tears as I realized he might be right. This time the Radical Homosexuals could win.
Ok, seriously, I'm heterosexual but that was starting to get me hot and bothered. Too bad it was written by a homophobic hate-monger.
Read more at The Washington Note.
-WKW
Having known people throughout my life that have struggled mightily with coming out, I think the "duh, of course he's gay" jokes that are already attached to Ricky Martin coming out as a gay man are thoughtless at best and hurtful at worst.
So here's offering much respect and admiration to Ricky Martin on his announcement today:
A few months ago I decided to write my memoirs, a project I knew was going to bring me closer to an amazing turning point in my life. From the moment I wrote the first phrase I was sure the book was the tool that was going to help me free myself from things I was carrying within me for a long time. Things that were too heavy for me to keep inside. Writing this account of my life, I got very close to my truth. And thisis something worth celebrating.

For many years, there has been only one place where I am in touch with my emotions fearlessly and that's the stage. Being on stage fills my soul in many ways, almost completely. It's my vice. The music, the lights and the roar of the audience are elements that make me feel capable of anything. This rush of adrenaline is incredibly addictive. I don't ever want to stop feeling these emotions. But it is serenity that brings me to where I'm at right now. An amazing emotional place of comprehension, reflection and enlightenment. At this moment I'm feeling the same freedom I usually feel only on stage, without a doubt, I need to share.

Many people told me: "Ricky it's not important", "it's not worth it", "all the years you've worked and everything you've built will collapse", "many people in the world are not ready to accept your truth, your reality, your nature". Because all this advice came from people who I love dearly, I decided to move on with my life not sharing with the world my entire truth. Allowing myself to be seduced by fear and insecurity became a self-fulfilling prophecy of sabotage. Today I take full responsibility for my decisions and my actions.

If someone asked me today, "Ricky, what are you afraid of?" I would answer "the blood that runs through the streets of countries at war…child slavery, terrorism…the cynicism of some people in positions of power, the misinterpretation of faith." But fear of my truth? Not at all! On the contrary, It fills me with strength and courage. This is just what I need especially now that I am the father of two beautiful boys that are so full of light and who with their outlook teach me new things every day. To keep living as I did up until today would be to indirectly diminish the glow that my kids where born with. Enough is enough. This has to change. This was not supposed to happen 5 or 10 years ago, it is supposed to happen now. Today is my day, this is my time, and this is my moment.

These years in silence and reflection made me stronger and reminded me that acceptance has to come from within and that this kind of truth gives me the power to conquer emotions I didn't even know existed.

What will happen from now on? It doesn't matter. I can only focus on what's happening to me in this moment. The word "happiness" takes on a new meaning for me as of today. It has been a very intense process. Every word that I write in this letter is born out of love, acceptance, detachment and real contentment. Writing this is a solid step towards my inner peace and vital part of my evolution.

I am proud to say that I am a fortunate homosexual man. I am very blessed to be who I am.

RM
-WKW
If anti-murder Republicans were actually murderers as often as anti-gay Republicans were actually gay, it would be a bloodbath out there.
-WKW
HEAVEN - God, the all-powerful entity that controls all things on the planet, spoke to his people today for the first time in hundreds of years. Using the voice of actor Dennis Haysbert so that he wouldn't shatter the eardrums and souls of ordinary humans, God was swift and to the point.
"Beauty Pageant Contestants are all going to Hell," said God, 46. "Did you not read what I said about pride?"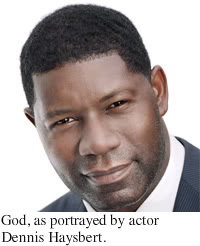 God's surprise announcement comes only days after Miss California contestant Lauren Ashley said that gays and lesbians should be put to death.
"If man lies with mankind as he would lie with a woman, both of them have committed an abomination," Ashley reportedly said to Fox News. "They shall surely be put to death and their blood shall be upon them."
God's comment regarding Pride has to do with Proverbs 8:13, where God says" "Pride and arrogance and the way of evil and perverted speech I hate."
God ended his speech with a warning toward judgmental beauty contestants and their families.
"How about you people lead your lives, and then I'll judge you," said God, originally from Cerritos, Calif. "Oh, and if you enter your young child in a beauty pageant, you get eternal damnation. No compromises."
While God didn't mention Ashley or Carrie Prejean by name, his feelings toward beauty pageant contestants seemed clear. noted God expert Sarah Palin agreed with God's words on Fox News.
"Beauty pageant contestants are an abomination," said Palin. "I've always believed that."
-WKW
What do you think about Gay Equality? WWII Veteran Phillip Spooner says it better than nearly anyone else could. A must-see video.
We Americans grow up hearing about "Freedom and Liberty." It is literally drilled into our heads day after day. We are now at a time when those words must either be proven true, or dismissed all together. A thank you to Mr. Spooner for his service and his beautiful sentiments.
-WKW
I have never served in the U.S. military. It was never really an option for me, as I tend to be quite cowardly and flee at the first sight of trouble. Also, I'm about as disciplined as Dennis Rodman. In fact, not only have I never served, I don't really even know anyone currently serving. Nonetheless, I know exactly what men and women in the military are thinking.
First off, there are a lot of 18-year-old, old-fashioned, testosterone-laden men in the military who are tough guys. They're often politically old-fashioned or conservative; they are not necessarily at the vanguard, in many cases, of accepting alternative forms of lifestyle.
Yes, these tough guys (and tough girls, I suppose) are willing to go into enemy territory, fight death-wishing terrorists and do whatever it takes to keep our nation safe. But they're horrified of gay people. The mere sight of a gay person leads to what they call in the military (I'm assuming) "Spontaneous Pants-Pooping." These may be brave men and women, but they are mostly conservative and mostly terrified of what someone does in their own bedroom. Trust me, I know.
Despite never having been in the military, I have a stunning deal of knowledge on the subject. After all, I love war. Thus, I'm an expert on those in uniform. Here are some facts you might not have been aware of:
All of our troops are Christian. If they weren't when they joined, they are now.
Our troops risk their lives for the American people. Except for the Gay American people. They must fend for themselves.
When our troops torture enemies (and all of them torture enemies, all the time) they call it "Happy Fun Time." Like me, most of them orgasm just thinking about torture.
Everyone in the military wants war, perpetually.
Everyone in the military under the rank of Colonel has a vestigial tail.
How do I know so much about the mindset of those in the military? Because I've watched a lot of movies about war. And after watching them, I know that American soldiers always win. And I know that they, like I love war. But more than anything, I know they are closed-minded and despise gays and lesbians. I do, after all, so they must, as well.
--WKW
This is fun. Go to Google and type in - Chuck Norris Homophobic Prick. Then hit "I'm Feeling Lucky." Trust me, I won't be sorry.
-WKW
Originally Published in the UK Times Online
A minor incident in a barber's shop last week has helped me to realize that I may no longer be straight. Not a fully fledged straight guy, anyway; perhaps not even a part-timer who helps the team out when it's busy. It appears I may be going Gay.
I was waiting my turn for a chatty Latvian to apply the hot towels and razor when a handsome young dad entered with a small, fair-haired boy at his side. The man took a seat and hoisted the wide-eyed child proudly on to his knee. The first haircut, I speculated inwardly, as a lack of fatherly glow and feeling of mild disinterest swept over me.

From time to time, the dad leaned forward as they waited and whispered close to his son's ear, tenderly kissing his fair head. Touching stuff if you're into that sort of thing, I imagine.
Still, I think my life changed at that moment. I learned that I totally don't want children. Plus, I so totally wanted to do the Father.
That's reality, folks. Simple really. A proud dad, an adored little boy and a beautiful display of dependence and responsibility. It was the epiphany I had needed and I emerged with a dashing new haircut and a desire to plow the Dad into next week.
Growing up in this great nation of ours, I was taught to have great pride in the freedoms America has bestowed upon its citizens. I learned of the brave Americans who heroically fought to acquire these freedoms, and today I still swell with pride thinking of the Americans that made the ultimate sacrifice to assure that all American citizens would live in the "Land of the Free."
Nonetheless, it took time for these freedoms to be acquired. The Founding Fathers were well aware that political pressures meant that they needed contain themselves when it came to bestowing these rights. In essence, there was - and is - the right time for rights.
In 2009, the Lesbian and Gay communities are fighting to have the same freedoms and rights as other Americans. Currently, gays and lesbians aren't allowed to serve in the military unless they keep a large part of themselves hidden. Likewise, the multitude of rights provided to married Americans just do not apply to the gay and lesbian community.
Americans should feel shame in allowing their government to define which of "We the People" are deserving of all the rights and freedoms available and the time for Gay Rights is now. Still, we must go back to the words of our Founding Fathers to see that sometimes these things take time, due to complicated political reasons. A look at some of the famous quotes by great Americans:
"Each individual of the society has a right to be protected by it in the enjoyment of his life, liberty, and property, according to standing laws. Should these laws not protect groups of Americans, they must wait patiently until Congress can agree that these rights should, in fact, be available to them."
"The ordaining of laws in favor of one part of the nation, to the prejudice and oppression of another, is certainly the most erroneous and mistaken policy. An equal dispensation of protection, rights, privileges, and advantages, is what every part is entitled to, and ought to enjoy. And I resolve that once there are no wars, once there is no poverty, once there is no hardship, once there are no important pending bills relating to corporations in the Senate, that we shall judge the political atmosphere and then take under advisement whether we shouldmake these protection, rights, privileges, and advantages available to others aside from rich white men."
Never have the words of our Founders been more important. This is why we all must fight to guarantee that the protections, rights, privileges, and advantages available to some are available to all. It is time for all Americans, regardless of sexual orientation, to have the full benefit of the freedoms available. By following the advice of the Founding Fathers, we shall repeal "Don't Ask Don't Tell," the "Defense of Marriage Act" and all other laws that shut out Americans from having the rights that so many Americans gave their life to acquire.
Once the wars in Iraq and Afghanistan are over, and health care reform is passed, and the unemployment problem is solved, and the international financial crisis has run its course, and we solve the illegal immigration problem, and the international dilemmas of Iran, Israel, Pakistan, Honduras, and North Korea are quelled, we will focus on Gay Rights and achieve freedom for all. Provided we have the votes necessary and there's no election coming up and and no fringe groups make to much of a ruckus about it.
Yes, when the time is right, we shall fight. Or, as the great American Patrick Henry so proudly stated:
"Give me liberty or give me death. Provided nothing else pressing is happening and we have the votes necessary to achieve this liberty and are able to break any filibustering against said liberties and are able reach bi-partisan agreement that these liberties are necessary, warranted and don't upset anyone."
-WKW
Because shockingly, the Internets aren't all about me. Yet.
Blue Gal: What feminism is all about at Fran's place.
Joe.My.God: You know, I'm starting to think the Pope may not like Gay folks.
Phydeaux: Bob's life is now officially a movie.
Jesus' General: No one could have anticipated that R.Crumb would go over the line.
Talking Points Memo:"Ok, President Bush, you'll be speaking after Zig Zigler but before Terry Bradshaw."
DagBlog: All we need to do to get people more interested in politics is to get a ball involved some how.
Alan Colmes: Just a normal day of Hate Tweets for Alan.
The Joshua Blog: Spine flu decimating Democrats.
Shoq Value: The best Letter to the Editor ever?
-WKW
The Obama Administration, which has been busy being malleable on the Public Option for Health care reform, avoiding investigating war crimes, and giving banks trillions, just doesn't have the time to deal with "Don't Ask, Don't Tell."
Jones said Obama "has an awful lot on his desk. I know this is an issue that he intends to take on at the appropriate time. And he has already signaled that to the Defense Department. The Defense Department is doing the things it has to do to prepare, but at the right time, I'm sure the president will take it on."

As a candidate, Obama signaled support for repealing the law. To the disappointment of gay-rights supporters, he has yet to made a move since taking office in January. The White House has said it will not stop the military from dismissing gays and lesbians who acknowledge their sexuality.
Apparently, General Jones would have us believe that President Obama wasn't aware that we were fighting wars in Iraq and Afghanistan when he promised to lift the gay ban during the campaign in exchange for our votes. So, Jones tells us today, Obama can't get to that particular promise right now because he's busy fighting wars in Iraq and Afghanistan. Uh huh.

So when exactly are both of those wars going to be over? I'm guessing some time after Obama leaves office. And that of course assumes that we don't have more wars to "distract" the president.
Don't fret, my LGBT friends, Obama may eventually get around to giving you the same rights I have. He's just really busy not getting his agenda passed for now.
-WKW