Lots of talk, not much action.
News.Politics
Obama to talk to Republicans: Don't expect much.
Haiti: Well, at least the election in the ravaged country wasn't really, really fraudulent. Cholera, however, is not slowing down.

Wikileaks: Julian Assange will do just fine in prison. Really.
Fed Pay Freeze: No more raises for two years for Federal workers - unless they are in Congress, of course.
Iran Nukes: Another discussion on tap, general sentiment is that Iran could conceivably be lying about everything and will continue.
Sports/Entertainment
Barca: The world's best soccer team thrashes Real Madrid.
Leslie Nielsen: Remembering a funny man.
Blogs
Mediaite: Hillary Clinton not at all pleased with Wikileaking.
X17 Online: Barbara Walters finds Justin Beiber and Sarah Palin interesting.
Crooks & Liars: Joe Lieberman loves Fox News, and will love them more when he's an official Republican.
Bob Cesca: Sarah Palin's DumbStupid.
Finally

Keep on talking.
-WKW

We must stop all leaks.
News/Politics
WikiLeaked: Look at it this way - it's not like being in the dark on a lot of these things was helping us out at all.
Korean War II: A little Korean War helps the medicine go down.
Iran: Death.
Afghanistan: Death.
Haiti: Election fraud.
DADT: The final push begins to rid U.S. of blatantly discriminatory rule.
Sports/Entertainment
Chicago Bears: Death.
NFL: Steelers, Chargers collect wins. All scores here.
Keeping it Quiet: Alicia Keys, Lady Gaga, Justin Timberlake, Usher and others set to go offline to fight AIDS.
Blogs
Richard Klass: How the GOP is planning to defeat Obama.
Brilliant at Breakfast: Abstinence not helping matters in Alaska.
NCD: Has Iran accomplished its goals in Iraq?
Ted Rall: 'US Zombie Empire: Re-distributed bailout would mean $350,000 per American' (Video).
Finally

Keep the fight alive.
-WKW
WORLD - F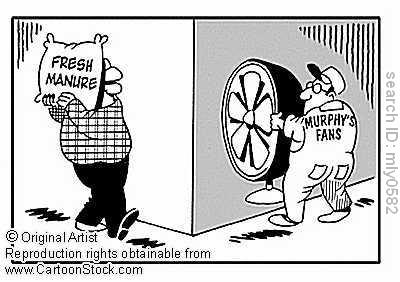 ecal matter is within 13 centimeters of the fan, say noted Swedish researchers in a study to be published in the journal "Hey, We Might Just Be Boned Here Annual." Leading Researcher Tim Jöhnson said the proximity of the fecal matter to the fan should be cause for alarm, but apparently isn't.
"Let's see, we have possible war between the Koreas, the whole of the Middle East in turmoil, an ongoing economic meltdown, political unrest, Haiti, British Petroleum destroying the Gulf of Mexico, and on and on," said Jöhnson. "All these factors are pushing the fecal matter ever closer to the fan. But no one seems to care."
For its part, the American people see the world's problems as "Anything Palin related," "Junk touching" and "Anything Lohan related, even now." A new poll shows "Shit-Fan Slamming" of no interest to any Americans.
"I'm no doomsayer," said Jöhnson, from Tupelo, Sweden. "But I will say doom is on it's way. maybe someone should look into that."
-WKW

Ooooohhh, colors.
News/Politics
No More Terror by Colors: No one could have anticipated the color-coded terror warning system was a joke.
Korean War Games: Someone should point out to someone that the North Koreans have a big-ass army and an unstable leader.
Democratic Abortions: No, no, no. Freedom of choice means an individuals choice, silly. It doesn't mean letting people vote on whether you should have an abortion.
Wikileaking: More to come.
Die With Your Debt: Some Seniors are starting to figure out the credit game.
Drug Tunnels: Being they are already tunneling, how's the fence going to help that problem?
Intermission

Sponsored by four dachshunds in colorful hoodies.
Blogs
Karoli: Reputation Management and the Art of Argument.
Mother Jones: We're still at war.
Dan Froomkin: The Two Most Essential, Abhorrent, Intolerable Lies Of George W. Bush's Memoir.
Shakesville: Your morning TSA Round-up.
Finally

It's Friday. Things are looking up.
-WKW
Seriously, this is getting ridiculous.
-WKW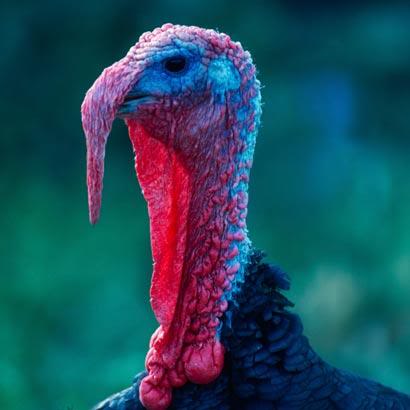 Eat me.
-WKW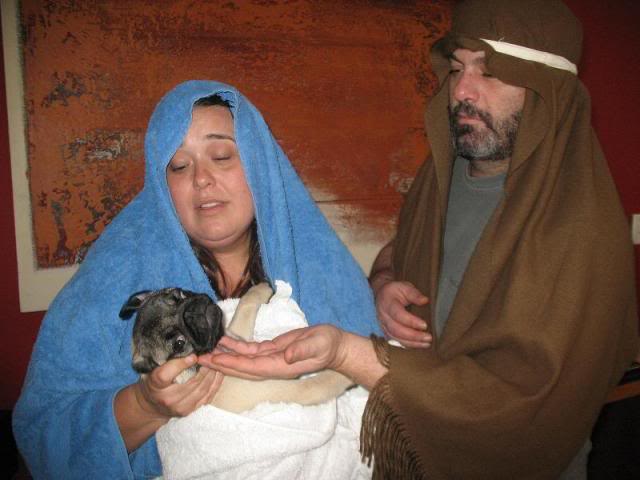 Behold his glory.
News/Politics
Haiti Water: Haiti has dirty water. Yes, the U.S. played a role in that.
Chandra Levy: Slain intern's family sees justice.
Michelango Scandal: David cheated. Goliath named winner.
Heaven is real: A 4 year-old meets John the Baptist. Thus, heaven is real. Fox News reports. You have decided.
Blogs
OrionXP: The logic behind today's conservatism.
KI Media: 375 dead after stampede in Cambodia.
National Review: Korean War II?
Mediaite: Glenn Beck goes after Barbara Bush who goes after Sarah Palin who goes after everyone else.
Finally
Let us pray.
-WKW
Crossposted at William K. Wolfrum Chronicles

Nov. 23, 2015 — Stating that he'd "Grown bored with the bullshit," God Almighty announced he was unleashing the Apocalypse some 900 years early.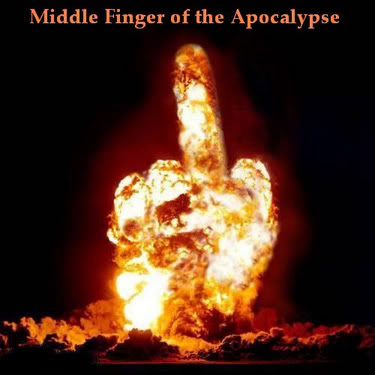 "Time goes crazy fast for me and all, but this is unbearable," said Almighty, 43, adding cryptically, "I have other civilizations to deal with."
American Republicans reacted to the news with shouts of victory. The shouts of victory quickly turned to shouts of anger, as they are prone to in such circles. After a few brief skirmishes and not a small amount of tears, the shouts again turned to ones of victory.
Speaker of the House John Boehner said the divine demolition showed that President Barack Obama's policies could not work.
"Yes, we obstructed every thing he tried. And that showed they don't work," said Boehner, blood pouring from his ears. "The Republican Party haw won. Good night."
As flying, dripping monsters of the most unpleasant variety tore down mountainsides and vomited Palin bile at the fleeing masses, talk show host Rush Limbaugh played the race card. Again.
"And this is the final proof that a Black man should only be President if we've run out of Whites, Yellows, Browns and Reds," said the Radio entertainer and de facto leader of the Conservative Party, as gargoyles gorged on his entrails and junkies raided his sock drawers. "And that's not racist. You're the racist."
While Republicans cheered the end of the United States and the world as we know it, Democrats Ben Nelson and Joe Lieberman asked by bipartisan dialogue.
"Really, we can talk this out," said Nelson. "Let's just go along with Republicans and celebrate Obama's failure, ok?"
For his part, God hinted at other life forms in the galaxy.
"There's got to be a planet of slugs or Mexican jump beans I could watch over," said G-d. "At least they are making an effort to evolve."
–WKW

The next Gitmo detainee patiently awaits his turn at justice.
News/Politics
OMG! Terrorists: Ahmed Khalfan Ghailani convicted on only one of 285 charges. That's good enough for 20 years to life, of course, but expect to see Liz Cheney this weekend explaining why the American Justice system is an utter failure.
Gitmo Gaffe: Obama played Gitmo about as poorly as he could.
Socialism Works!: GM explodes back onto Wall Street.
Democracy Works!: Lisa Murkowski's write-in voters steamroll Joe Miller in Alaska.

Assange in Trouble: The Swedish authorities want to talk to Wiki-Leaks mastermind Julian Assange about his involvement in a rape.
TSA Questions
"Is that a String hanging out your vagina or a fuse?"
Blogs
Ewan McIntosh: What is a community? Let Ewan know.
Radar Online: Eva Longoria wasn't quite enough for Tony Parker.
Stuart Shapiro: Warren Buffet sends his thanks to the government.
David Seaton: Haitian cholera: opening soon in theaters near you… not.
Outside the Beltway: Investigative journalism, RIP.
Finally

A tortured reality
-WKW

TSA has the touch. They have the power.
News/Politics
A Time of Cholera: When Cholera deaths explode in Haiti, no one will have been able to anticipate it.
TSA = Touching Some Ass: The TSA chief is about to have fingers wagged at him.

It's multi-media me day.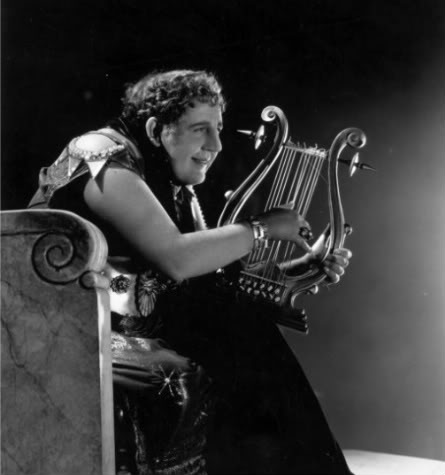 Let the fiddling begin.
Wolfrum's Word
Congress is back! In other news, Fiddle companies announce they plan for record profits.
News/Politics
A Time of Cholera: Cholera Outbreak reaches Port au Prince. Death toll closing in on 1,000.
Congress Returns: The Lame-Duck session stars. Don't expect much.
Nazis!: The U.S. welcomed them with open arms. Also, Neo-Nazis love Arizona's racist laws!
Iraq: Death.
Afghanistan: Death.
Oh, that Hamid: Seems Karzai is a crappy puppet some times.
Look to the Sky: And see the Leonid meteor shower.
Just Thinking
I think the Neo-Nazis have been around long enough that we can just call them "Nazis" now.
Sports
Pac-Man: Manny Pacquiao secures his place in boxing history, with or without Floyd Mayweather.
NFL: Steelers, Giants suffer bad losses. Find scores here.
Blogs
DKos: The case for impeaching the President.
DailyDrew: My E-mail to Mark Shields.
Zero Hedge: Ben Bernanke sentences the poor to a long, cold winter.
Finally

War, War, War. I get so bored I could scream.
-WKW
As war and economic woes spread through the world like wildfire, the Catholic Church is ready to help - by finding more exorcists.
Citing a shortage of priests who can perform the rite, the nation's Roman Catholic bishops are sponsoring a conference on how to conduct exorcisms.

The two-day training, starting Friday in Baltimore, is to outline the scriptural basis of evil, instruct clergy on evaluating whether a person is truly possessed, and review the prayers and rituals that comprise an exorcism. Among the speakers will be Cardinal Daniel DiNardo, archbishop of Galveston-Houston, Texas, and a priest-assistant to New York Archbishop Timothy Dolan.
Two days and you can be an exorcist. McDonalds won't let you on the fryolator after two days.
HT AmericaBlog
-WKW
WASHINGTON - Continuing his pattern of negotiating before being at the negotiating table, President Barack Obama shut down the Federal Government today.
"We must work together," said Obama, on the 16th hole of Pebble Beach. "By shutting down the government right now, we're showing Republicans that we are open to their suggestions."
Having won control of the House, Republicans enter the new Congress confident and with one major agenda item - destroy Obama. Noted for his need to have Republicans like him, Obama used an obscure Constitutional law to shut down the federal government, as well as all state and local governments.
"We mean business," said Obama. "I'm well aware that Republicans want to destroy my Presidency and legacy. It's time to meet them halfway."
For their part, Republicans were not pleased.
"Barack Obama's socialist agenda will not stop with shutting down the government," said incoming Speaker of the House John Boehner. "Until Obama begins impeachment proceedings on himself, this country will never be safe from terrorist attack."
Obama Senior Adviser David Axelrod said that the plan for the President to impeach himself is on the table.
"We're looking at it," said Axelrod. "All I know is that having the Government open hasn't helped us at all. We're open to any and all alternatives that Republicans want so that they'll play golf with us."
-WKW

The Meaning of "Austerity." The privileged won't feel it.
News/Politics
G20: By the time they're done, you'll still be unemployed and rich people will still pay less in taxes.
Austerity!: When Austerity comes to America, it will be wrapped in a Democrat.